Behind Alice Nightingale
Local Designers | Meet Alice Nightingale
It's fashion season! Mark your calendars from the 7th-10th of June for the Best of Brisbane Style & Design Market! To prepare you for what's to come we've met with one of the many featured local designers, Alice Veivers, who will be showcasing her fashion and flair through her own brand Alice Nightingale! Make sure to head over to Indooroopilly Shopping Centre to check out her beautiful designs at the upcoming event!

Alice Veivers focuses on using second hand, vintage and locally produced fabrics, meaning her designs are not only hand made to outlast fast fashion cycles, but are also environmentally and socially sustainable.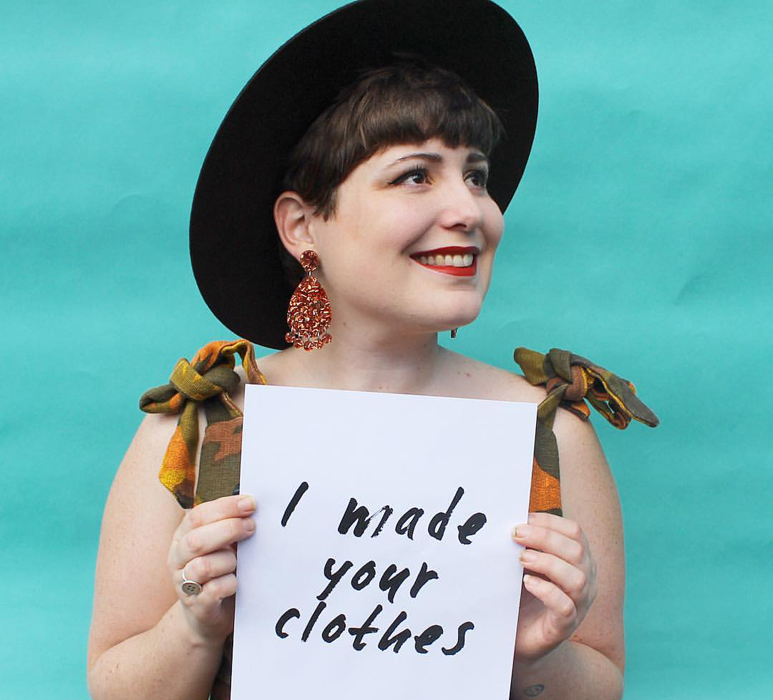 NAME: Alice Veivers
NICKNAME: Veevs (we can blame my partner for that one)
JOB TITLE: Designer/Maker
VENUE: Alice Nightingale
WEBSITE: Alice Nightingale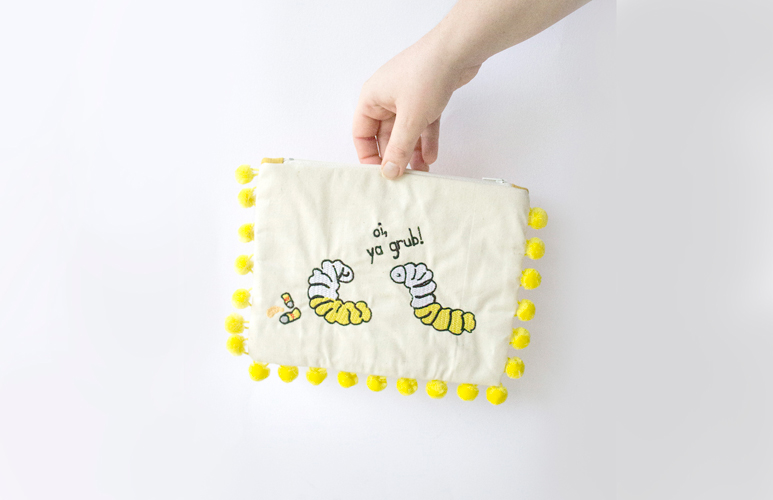 WHAT DO YOU LOVE MOST ABOUT WHAT YOU DO? Making! I was drawn into this line of work through my love of sewing and pattern making as a teenager. After studying fashion design in in 2009, this love grew into a goal to create my own label and keep it 'handmade'.
DESCRIBE A DAY IN THE LIFE OF YOU? My studio takes over most of my home (shoutout to partner Corbin for dealing with the creative mess) and I have found I work best in a comfy space! I spend most of my days working on vastly different projects for orders or for photoshoots, it keeps things fun and not too monotonous! Because I paint, print, embroider, cut and sew all of my pieces myself, I have very long hours to keep up demand - good thing I don't have to commute back home to my pillow :)
WHAT ARE YOU PASSIONATE ABOUT? Sewing and the environment, and how I can mix those two loves! I help my partner run a bush care group near Carindale and it's really helped to boost my view of how amazing plants are and how we can all make small changes to help the environment. My business model is ever-evolving into a more ethical and sustainable one. I'm currently working with secondhand fabrics, printing and adding embroidery to renew them, to cut out new fabric demand and use what we already have in the world! It's so important to start asking where our clothing was made and who made it.
WHAT'S YOUR LIFE PHILOSOPHY? Keep on making! I love creating and learning new crafts - I'm currently working on a side project called re(sh)use, where I pull apart old and discarded shoes and make them into new ones - using reclaimed fabrics and thread!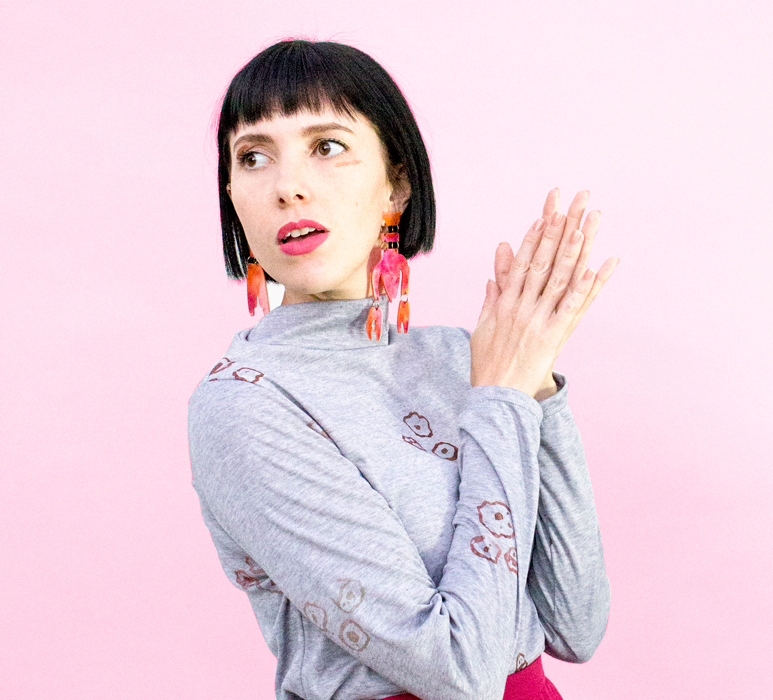 WHAT MAKES YOUR BRAND UNIQUE? A lovely little mix of ethical production, textile design and the fact that I made every single thing myself, here in Brisbane!
THREE PEOPLE (DEAD OR ALIVE) YOU WOULD INVITE FOR DINNER PARTY?
Elsa Schiaparelli - she was a super quirky designer who made it big in the 30's. She'd probably do something way too over the top, like re arrange all the plates into a piece of art at one end of the room.
Paul Kelly - Because you know he'd have some proper good stories.
Rhys Darby - He's so chatty and would bring the perfect level of silliness to the table
WHAT MADE YOU INTERESTED IN THIS EVENT? As a solo business lady, it's such an amazing opportunity to get out there and show off my wares! It's so great to see a big shopping centre support local designers, and for me to be able to bring along clothing that is both designed and made here in Brisbane is just beyond belief. I'll be sewing like mad till June 7!
WHO'S YOUR INSPIRATION? Design wise, I look toward vintage designers and nature for inspiration! Business wise, I look up to labels around the world who have used their brands for good - keeping it local and ethical.
WHAT BRINGS YOU THE GREATEST SATISFACTION? Finishing a project, whether it's a dress, a pair of shoes or a cake - I love that feeling of pride!

WHAT IS THE BEST ADVICE YOU'VE BEEN GIVEN? You can't be someone else. It's hard in the business of handmade to not look around at mass produced labels, flying their 'designed locally' flag and not feel upset. But you're not them, you're you! Social media success is bound to come faster to designers who have the supply chain ability to order 200 of something at once. It's so important to focus on individual customers and designing to make them feel great, instead of hearts on Instagram.

WHAT IS ON YOUR BUCKETLIST? Totally achieveable, but I just want to see as much of Australia as I can! I love me some camping.
WHAT IS YOUR GREATEST INDULGENCE? Making myself a one off using my stack of vintage fabric. Fabric I should definitely save to sell, but I can't resist!

WHAT IS THE BEST GIFT YOU'VE EVER RECEIVED? My first sewing machine. My grandma gave me one when I was 12, it got me madly sewing and deeply obsessed with making things!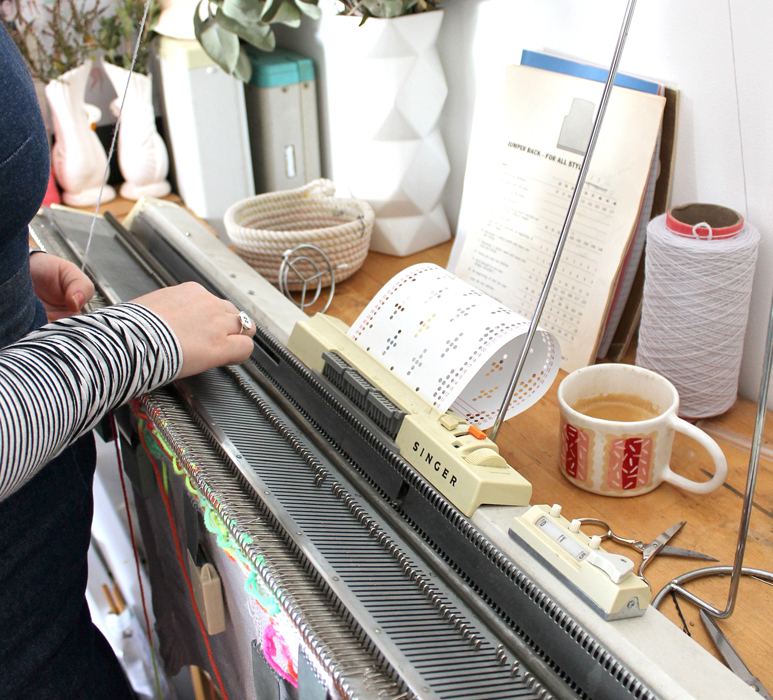 WHAT IS THE ONE THING PEOPLE WOULD BE SURPRISED TO KNOW AOUT YOU? Hmm. I don't just wear pink? Hahah. A bunch of people have been surprised lately to hear me talk about a metal show or mention how much time I spend in my Pj's. Social media, kids! It ain't everything! As much as I love getting dressed up, I'm not always the lipstick wearing, dressed in pink Alice of the markets I attend.

WHAT IS THE ONE THING YOU WISH YOU KNEW WHEN YOU WERE YOUNGER? Don't try and make the standard business model fit. Small businesses are all different, especially if you're making everything yourself!
WHERE IS YOUR FAVOURITE HOLIDAY DESTINATION? : I loved camping in Charleville last year, so Western Queensland is definitely up there. There are also lots of beautiful national parks around Newcastle that are worth the drive to camp at!
FAVOURITE PLACES IN BRISBANE :
EAT: Little Clive in Annerley
DRINK: Slipstream Brewing in Yerongpilly
CHEF: My brother Shane Veivers, humble brag. Look him up, he's amazing!
RELAX: Walkabout creek, Enogerra Reservoir
SHOP: Brows General Store, Paddington
TO IMPRESS: Shorncliffe pier at dusk
CULTURE/ARTS: GOMA cinema
EVENT: Finders Keepers
SUNDAYS: Leftys live music
BRISBANE'S BEST KEPT SECRET IS: Moorooka Op shops, such a treasure trove!
NEXT EXCITING THING FOR ME IS: Finders Keepers Brisbane! June 22-24
MORE: I was recently on the cover of the new Frankie Mag book! Bonnie Hislop and I were the only Queenslanders in it, so we're pretty bloody proud!