Introducing the Allpress Iced Flat Mac
at Sparrow Coffee #yum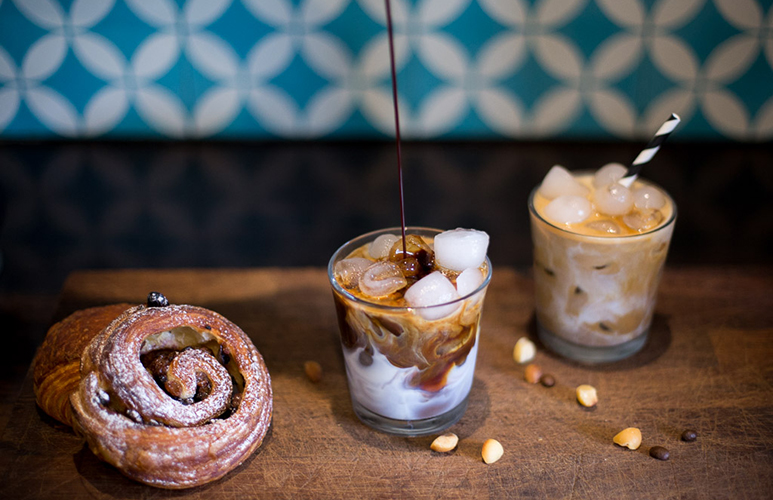 Now the sun is out in full force, it's time once more for iced coffee, or more specifically, Sparrow's Iced Flat Mac!
Want to give coffee the cold shoulder?
Forget what you used to think about iced coffee, the summertime classic has grown up and gone global. Sparrow's iced coffee is a very different beast. It's classy, mature, straight-up delicious and the perfect drink for sweltering summer days.
Sparrow Coffee challenged themselves to make an iced flat white — a shunned drink in the world of high-end coffee — that they would actually want to order. The result: a shot of Allpress espresso poured over ice with Macamilk: native Australian macadamia milk. The key is the macadamia milk, which adds a beautiful creamy flavour that balances perfectly with the Allpress coffee, for a drink that is more elegant and subtle than you thought an Iced Flat White could be. It's as bright-tasting as it is refreshing, and oh-so-perfect for steamy summer days.
Once you go mac, you never go back!
Some of the benefits of Sparrow's new Iced Flat Maca:
A taste of summer
100% plant-based
No added sugars, contains naturally occurring sugars
Naturally GMO, lactose and gluten free
Macadamia nuts are amazing little nutrient-filled powerhouses with a blend of vitamins, minerals, nutrients, and antioxidants, such as calcium, iron, magnesium, zinc, selenium, vitamin E, vitamin A, and flavonoids, promoting glowing skin from the inside out.
Price: $5.50
Available at Sparrow Coffee: 214 Adelaide Street, Brisbane CBD
sparrowcoffeeco.com.au / @sparrowcoffeeco