10 Minutes with Cirque du Soleil's Kazuha Ikeda
MEET KLARA: KURIOS - Cabinet of Curiosities
Cirque Du Soleil is heading back to BRISBANE this January 10, 2020 with its signature big top and most acclaimed touring show, KURIOS – Cabinet of Curiosities™. You better be ready... We heard this one is in tents (ha, get it?).
Written and directed by Michel Laprise, KURIOS – Cabinet of Curiosities is a tale in which time comes to a complete stop. Set in the latter half of the nineteenth century, reality is quite relative – there's a kaleidescopic concoction of characters in all all-new wonderland where absolutely anything is possible; KURIOS seems to press pause on time, space and relativity, while wrapping it in a gigantic Wonka-meets-Suess overcoat – to entertain, educate and amaze – think STEAM PUNK MEETS CIRQUE!!!!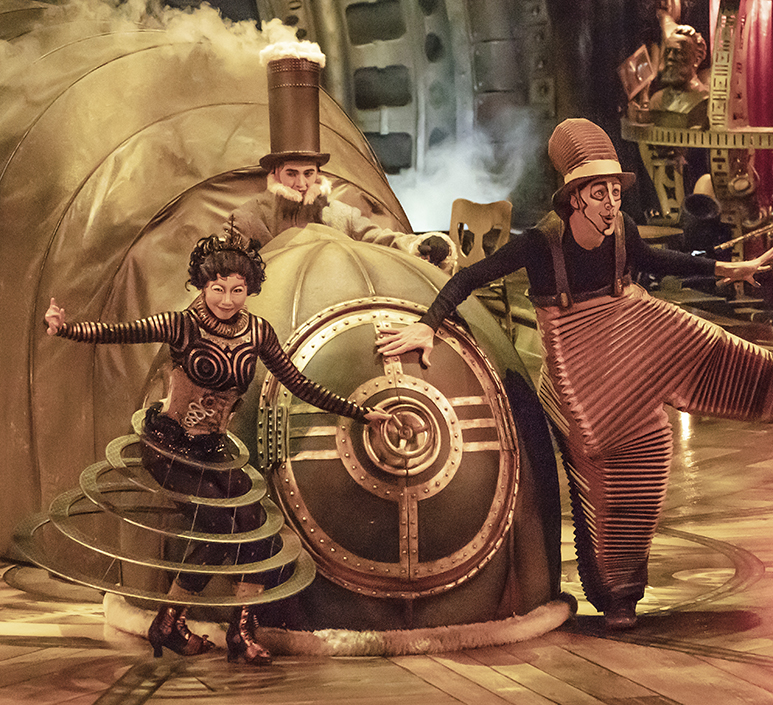 Q&A with Kazuha Ikeda
Name: Kazuha Ikeda
Character: Klara [in the Telegraph of the Invisible]
Country: Japan
Having started her career in dance, appearing in multiple recoding artists and productions in both Japan and North America, including the 2015 Billboard Music Awards and as a featured dancer in music videos for the Pussycat Dolls, Mariah Carey, and in a promotional video for Britney Spears' "Mannequin", Kazuha Ikeda found her love for the stage after having seen "O" by Cirque du Soleil in 2005. Overwhelmed by the concept of the show, she set a goal to someday perform for Cirque du Soleil. In 2012 Kazuha attended a Cirque du Soleil general audition and was entered into the artist database and in 2017 she was selected for the role of Klara in KURIOS.
Tell us about your character – Klara.
My character, Klara is half woman and half mechanic, symbolising the old school telecommunications in the 19thcentury. [Gestures to hoop skirt] She is especially curious about how human beings feel and think, and as the story unveils, we see her becoming increasingly in touch with her human side as she starts to understand how human emotions come into play in everyday life.
What's the biggest difference between your work as a dancer and Cirque du Soleil?
It's actually a huge difference as compared to when I worked as a dancer in music videos where I only had to shoot once over and that was it. In Cirque du Soleil, we were performing every day and bringing our best performance to every single show. That being said, I do feel that my previous work has indeed helped me tremendously in building my foundation as a Cirque du Soleil performer. It makes the fluidity and effortlessness of Klara's movements much easier for me.
Your costume as Klara is impressive – can you tell us how long it takes you to get dressed in costume and makeup? Is the costume difficult to wear on stage? What's your favourite part of the costume?
The hardest part of Klara's costume is her makeup. It takes about two hours to get her looking like this. Putting on the costume on the other hand is much easier, but she does have a really heavy skirt! Also, Klara's skirt isn't just another part of the costume, I have to treat it as part of my own body – just like an arm or a leg, this makes moving around slightly more challenging I would say.
Have you been to Brisbane before? What are you most looking forward to seeing while you're here?
No, this is my first time and I'm so excited! I honestly have no idea what Brisbane has to offer and would love to know of any good restaurants and special places to visit. Although, from what I've seen, Brisbane is very beautiful and I simply cannot wait to spend more time here.
What's your favourite part of the show?
Hmmm… that's a tough one… each and every act is so unique and amazing in my opinion. Maybe what wows me the most is the story behind Kurios – It sends an impactful message, reminding us that human beings still have the capacity to turn their curiosity into some really beautiful and positive outcomes as they did in the 19th century, instead of using it to start wars or for personal gain.
What was your first time performing with Cirque du Soleil like?
I was so nervous and frankly, don't have much memory of it. *Laughs* It just all happened so quickly! I've been trying to get into Cirque du Soleil for a long time, so it was really a dream come true. I'm so lucky to still be able to relive that dream every single day!
What's it like to travel with the circus? What's your favourite place you've been to so far?
We have around 120 people moving around together, from performers to technicians, they've become like a family to me. Oh, not to mention, they all have their own family who come to visit and travel with us as well. That's the amazing part of being in a touring show!
Has your family always been supportive of your Cirque du Soleil commitments?
Definitely! As I've been living in L.A. for a bit, they never actually had the chance of seeing me perform in real life. So last year when we toured Japan and I got to perform in my hometown, Tokyo, my family came to the show and they were speechless after seeing how big the entire show was!
What's the best part of your job?
I think the people, really. If you come to think of it, everyone working for this company are professionals from all over the world, who on a personal level are such amazing human beings. Plus, I get the opportunity to expose myself to all these new cultures, and get inspired by them every single day.
What is the greatest challenge of your job?
Given that we perform six days of the week, it gets pretty challenging to maintain our physical and mental health, but nevertheless, we still put on our very best performance for each and every show.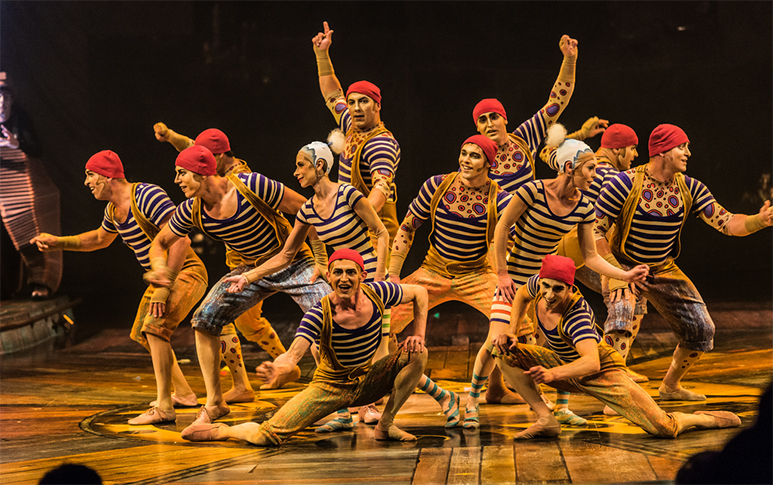 What is it like for you to perform in front of such a big audience?
Well, every show brings a different energy and reaction. We, as the performers get the privilege to create this personal connection with the audience each night, which is also why I love live shows. It's just so magical!
What's a typical day like for you during the performing season?
Our shows are typically in the night time, but I start work quite early at around noon or 1pm, where I begin my training after lunch or attend occasional meetings and then get prepared for the show. That's pretty much for all six days of the week!
How much time do you spend practising your skills?
People who are in a group act have their own practice times together, whereas for us individual characters, we just allocate our own training timings. For me, I feel that Klara is a pretty challenging role, so I spend 24/7 just thinking of anything else that I can add so as to constantly improve – almost like training all day!
Are there any similarities between you and your character? If not, what are the main differences?
Hmm... I feel that similar to me, Klara is always in her own world. She's in her head a lot and almost always thinking of something. Differences wise, Klara really gives no care for other people's opinions of her. She's also really bold and confident which is something I can learn from her.
Do you have a specific process for getting into character/ How do you get into character?
I think that the two hours of makeup is good meditation time for me to also get into character little by little, so once I'm fully costumed, I'm ready to go.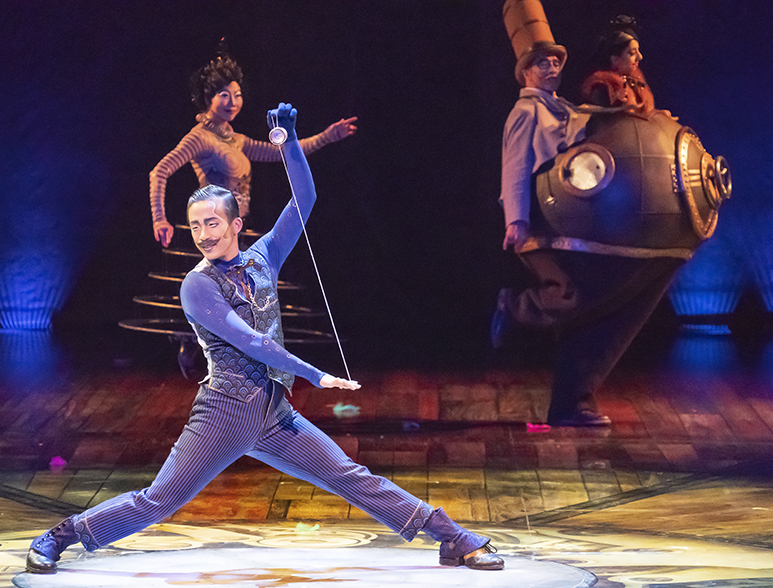 You are kidnapped & held for ransom, what TV show would you have come rescue you?
*Laughs* I grew up in Japan so I only know Japanese TV shows. Hmm… Curious George? I don't know!
Five words to describe yourself?
Curious, intelligent, awkward, shy and thinker.
If you were an animal which one would it be?
I would be a sloth!
Do you get nervous before each show? If so, what do you do to calm yourself down/get in the zone?
Every time. I've done almost a hundred shows and still get nervous before each one. A good friend of mine once told me that it's good to get nervous because that energy translates into an amazing performance. I try my best not to get too nervous, but still keep that balance in check and use it to motivate me during the show.
Any advice for aspiring acrobats?
I guess just to go for it is the key in my opinion! I don't feel like I'm the best dancer or performer in the world. There're so many others out there better than myself, but just by taking action sometimes pays off. Even if you don't get the role, take away whatever you can from the experience, go home and train some more, then return as a better version from what you once were. The role would come to you very naturally afterwards.
Why should people go to see this show?
Ooh, simply for the fact that Kurios is so fun! I haven't seen anyone leave without a big smile on their face. Be it a family outing, a date night or if you're just looking to put a big smile on your face, Kurios is the place to be.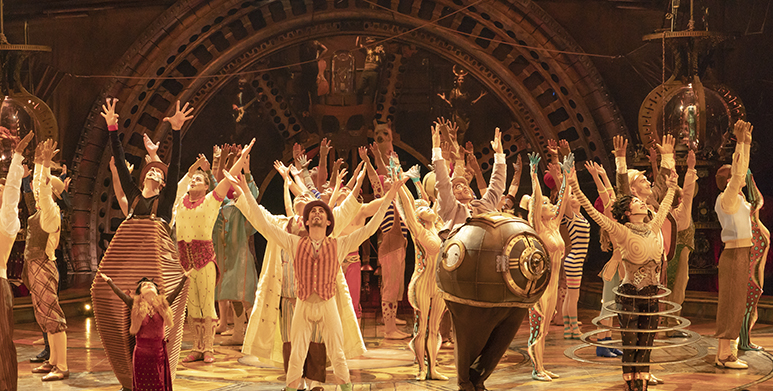 IMAGE CREDITS: asterisks (*), Teaser, Main + Hero Photo: Martin Girard / shootstudio.ca Costumes: Philippe Guillotel © 2014 Cirque du Soleil