Behind Salt
Local Designers | Kate Evans
June is the month of sublime fashion! Indooroopilly Shopping Centre is showing their love for all things lovely and local from June 7-10 at the Best of Brisbane Style & Design Market. Pop-up, SALT will feature deisgns by talented co-founder Kate Evans.
Kate is inspired by communicating, educating and connecting with consumers through her unique and creative designs. The Salt pop-up will offer designs that demand a personal connection to the owner/wearer from practice-focused designers, QUT and QCA Trained artisans.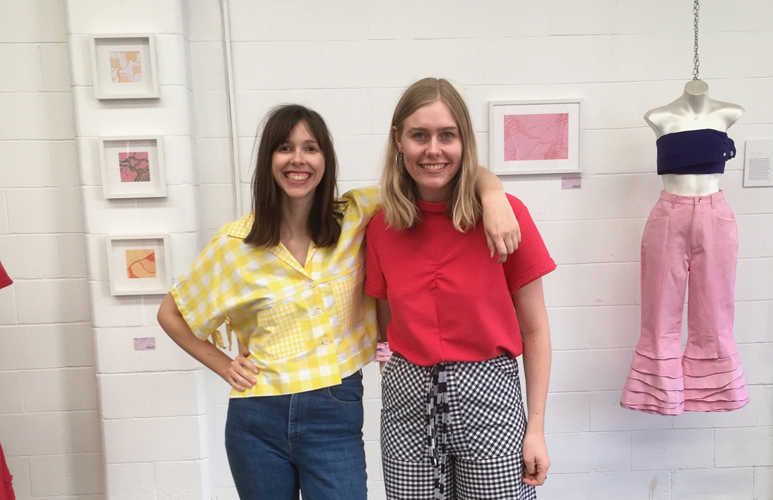 NAME: Kate Evans
JOB TITLE: Designer and sole operator of the label Katalyst and co-founder of SALT with my
business partner Kat Walsh
VENUE: I run these operations out of my home studio, or out of my local coffee shop.
WEBSITE: Kate Evans | Kat Walsh
Insta: Kate: @katalyst_design | Kat: @kat.walsh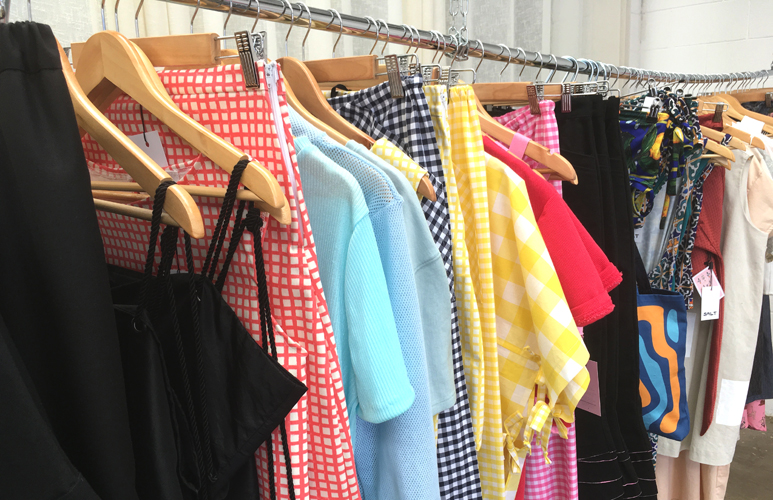 WHAT DO YOU LOVE MOST ABOUT WHAT YOU DO?:
I love that there is something different to focus on everyday. It keeps me on my toes, it's certainly never boring! The design, making and illustration is my favourite part of the job, but can often be filled with ambiguity. The logistics and organisation side helps balance that out! What I love most is being able to communicate through making and design, and being able to experiment and play in the process.
DESCRIBE A DAY IN THE LIFE OF YOU?:
From the conception and initiation of Salt, every day has been different. Kat and I work our other jobs on opposing days and our days working on Salt comprise of emails, ordering, design and curation of the event, designing and making our own pieces and lots of coffee! Typical day is a funny concept – I don't feel like any day is like the last. I find running a small business/venture, you have to wear many hats. Recently, my days have begun with checking and answering emails. Some days I will place orders for fabric, haberdashery, marketing materials. Some days will involve graphic design and designing posters and other marketing materials. Other days I will focus on garment and textile design or my illustration work.
WHAT ARE YOU PASSIONATE ABOUT?:
I am passionate about creating unique products and educating consumers about the processes, time and people involved in making fashion products and art. The fast fashion industry has led to consumers placing less value on fashion items and a lack of understanding about the work and thought process that goes into making them. This has had such a negative impact on local artisans, small labels and the environment. I strongly believe that an increased understanding of the methods and people involved in the making process is forging the way for greater value to be placed on fashion. This is what our brand Salt aims to do - bringing together local practice-focused designers and artisans with consumers and facilitating an open line of communication between these two parties for a more meaningful shopping experience.
WHAT'S YOUR LIFE PHILOSOPHY?:
Find out what you love and the values that are important to you, and find a way to satisfy these things. Don't limit yourself to just one direction, particularly within the creative industries. Find the part of design or fashion that you love and that aligns with your values and explore the many options within this. I've found that the thing that pays your bills and your creative outlet don't have to be the same thing, particularly in the beginning.
5 WORDS THAT DESCRIBE YOU:
Highly-strung, Persistent, Passionate, Excitable, Perfectionist.
WHAT MAKES YOUR BRAND UNIQUE?:
The Salt pop up store strives to bring together practice-focused designers whose product is of high quality. Involving a range of QUT and QCA trained artisans, Salt offers a range of garments, accessories and jewellery pieces that demand a personal connection to the owner/wearer. Salt aims to encourage consumers to examine fashion outside of fast-paced consumer culture and to appreciate the techniques and practice of making.
THREE PEOPLE (DEAD OR ALIVE) YOU WOULD INVITE FOR DINNER PARTY?:
Anyone from Well Made Clothes, a Sydney-based company bringing together socially conscious brands and educating consumers and encouraging transparency in the fashion industry. I would love to discuss sustainability and conscious consumption and how to help these ideas grow in the Australian market.
Mark Maron - I'm a regular listener of his podcast WTF and his interviews with successful actors, musicians and other creative practitioners help me to remember that everyone has to hustle, balance different gigs and deal with the ups and downs of the creative industries to be successful. I would love to talk to him about his own career as a comedian and the things he has heard and learnt through the people he has interviewed.
And thirdly, any one of my closest friends to keep me calm and level headed in front of people I admire.
WHAT MADE YOU INTERESTED IN THIS EVENT?:
We decided it would be a great chance to showcase local talents to a broader market and introduce consumers to local makers.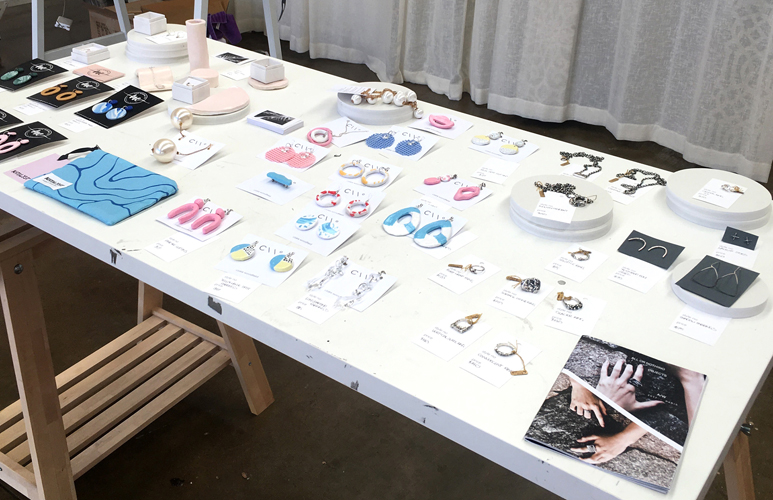 WHO'S YOUR INSPIRATION?:
Bowie, for sure. His drive to keep experimenting and creating was and still is inspiring.
IF YOU COULD MEET ANYONE IN THE WORLD, DEAD OR ALIVE, WHO WOULD IT BE?:
As above, I would love to meet him and just chat creative inspirations.
WHAT BRINGS YOU THE GREATEST SATISFACTION?:
When you envision something you want to make in your head and it materialises through hard work and is even better than expected.
WHAT IS THE BEST ADVICE YOU'VE BEEN GIVEN?:
Make sure you take time for yourself - it's not sustainable to just go, go, go all the time and never stop working.
WHAT IS ON YOUR BUCKETLIST?:
See the Northern Lights
Go to Edinburgh Fringe Festival
Go to Dark Mofo in Tasmania
WHAT IS YOUR GREATEST INDULGENCE?:
Chocolate - I have the biggest sweet tooth ever.
WHAT IS THE BEST GIFT YOU'VE EVER RECEIVED?:
Probably the latest and greatest is my Wacom tablet – I do all my digital illustrations on it and it allows me to combine the unpredictability of hand-drawing with the clean lines of digital work.
WHAT IS THE ONE THING PEOPLE WOULD BE SURPRISED TO KNOW ABOUT YOU?:
Despite all the colour and and intricate details in the pieces I design, I spend most of my life wearing black/muted tones.
WHAT IS THE ONE THING YOU WISH YOU KNEW WHEN YOU WERE YOUNGER?:
It's cliche, but all the parts of yourself that you feel insecure about will be your point of difference in your creative practice in the future.
WHERE IS YOUR FAVOURITE HOLIDAY DESTINATION?:
I love London, but I really want to explore Belgium and the Netherlands a bit more. However, Melbourne is still exciting and a bit more realistic!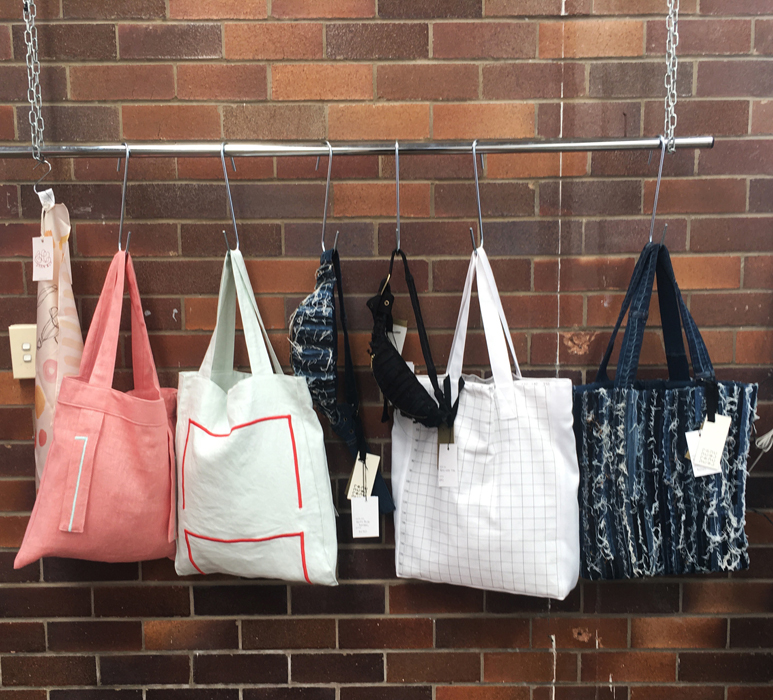 FAVOURITE PLACES IN BRISBANE :
EAT: Coffee and veggie toasties at Atticus Finch in Paddington fuel my work days.
DRINK: I don't often venture too far from home - Remy's in Paddington or Brewski in Milton is usually where I head for a casual drink.
RELAX: My house, with Netflix and junk food usually.
SHOP: I have expensive taste, so James Street in the Valley is the place for admiring - but op shops are where I do most of my shopping.
CULTURE/ARTS: GOMA is always good for art exhibitions and cinema!
EVENT: The Monster Creative Showcases at Bib'n'Brace showcase local artisans and are always good to check out! I'll normally swing by plenty of music venues around Brisbane for gigs too.
SUNDAYS: Working retail means Sundays are spent at DFO for me, not the most exciting answer but something's gotta pay the bills!
BRISBANE'S BEST KEPT SECRET IS: The buzzing creative scene and all the little niche creative events happening around the city. People always initially think of Melbourne as a creative hub but the scene in Brisbane is tight-knit and really exciting when you dig for it.
NEXT EXCITING THING FOR ME IS: I'm looking forward to taking some time to shoot a lookbook of my new designs and hopefully more pop ups in the near future! Kat and I want to bring back the original concept of SALT as an exhibition and pop up shop focusing on the techniques and artisans involved in the making process.