Behind Yippy Whippy
Local Designers | Meet Nicole Casella
Meet Nicole Casella - founder and lead designer of Yippy Whippy. They will be one of many talented designers and labels to be featured at the Best of Brisbane Style & Design Market from the 7th-10th of June at Indooroopilly Shopping Centre. It's a must-go!
Yippy Whippy is the pseudonym of Australian-based designer and illustrator, Nicole Casella. The Yippy Whippy jewellery and apparel range is all about fun, colour and unleashing your inner child! Everything is designed by Nicole in her studio in Brisbane, since January 2016.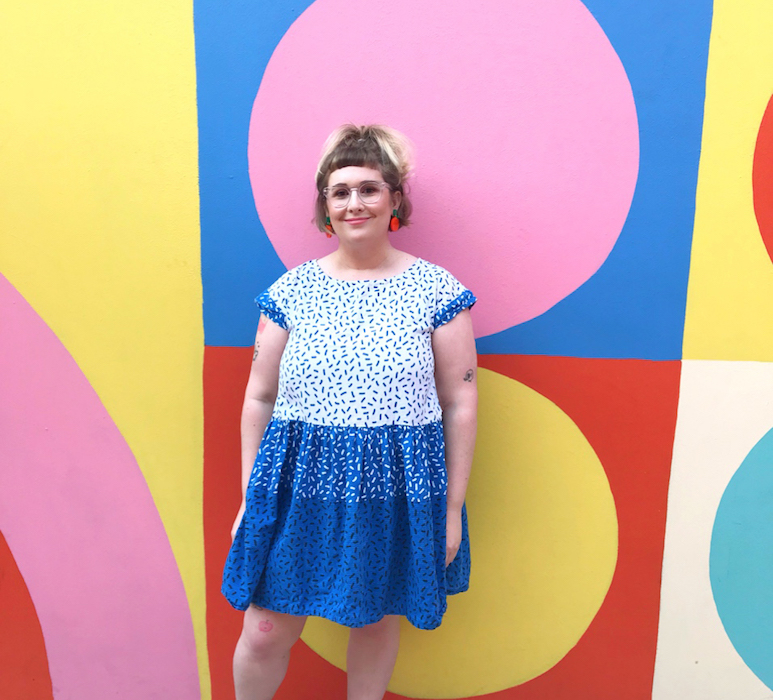 NAME: Nicole Casella
NICKNAME: Yippy Whippy
JOB TITLE: Founder/Lead Designer of Yippy Whippy
VENUE: I work full-time on Yippy Whippy at my home studio
WEBSITE: Yippy Whippy
FACEBOOK |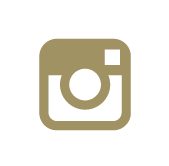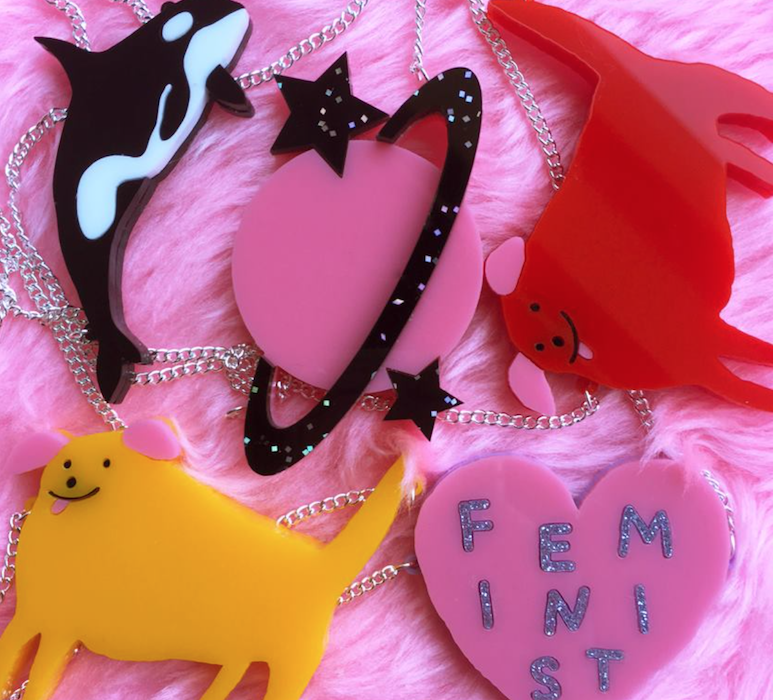 WHAT DO YOU LOVE MOST ABOUT WHAT YOU DO? That I have full control and I am free to be as creative as I want.
DESCRIBE A DAY IN THE LIFE OF YOU? I wake up, have coffee (and breakfast sometimes!) and sit at my computer checking emails and make a list of what I need to get done for the day. I'll then usually get stuff done like product photography/photo editing and create posts for social media.
WHAT ARE YOU PASSIONATE ABOUT? Creating new products, art and business.
WHAT'S YOUR LIFE PHILOSOPHY? If it is to be, it is up to me.
5 WORDS THAT DESCRIBE YOU: Ridiculous, happy, fun, adventurous, risk-taker.
WHAT MAKES YOUR BRAND UNIQUE? I think because the products I make are so different to what people usually come across in stores. I also make things that surprise people or makes them laugh!
THREE PEOPLE (DEAD OR ALIVE) YOU WOULD INVITE FOR DINNER PARTY? would invite Albert Einstein, Coco Chanel and Salvador Dali and because they are the pinnacle of high achievers in their fields. I'd love to pick their brains.
WHAT MADE YOU INTERESTED IN THIS EVENT? It's such a great opportunity to showcase local designers and discover exciting new products and brands. I love that it's such a unique event isn't usually something that is done by other shopping centres in Brisbane.

WHO'S YOUR INSPIRATION? My son.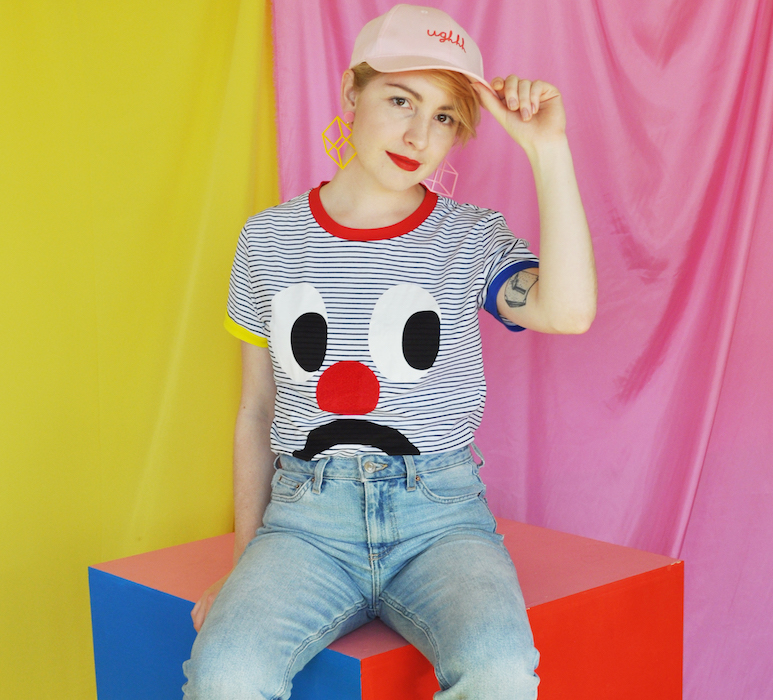 IF YOU COULD MEET ANYONE IN THE WORLD, DEAD OR ALIVE, WHO WOULD IT BE? Salvador Dali.
WHAT BRINGS YOU THE GREATEST SATISFACTION? Receiving a positive response to something I've made.

WHAT IS THE BEST ADVICE YOU'VE BEEN GIVEN?I really like the advice about "putting your life jacket on before putting one on your child" – Helping yourself first before helping someone else. You can't expect to be 100% in business and in life if you're giving so much of yourself to others.

WHAT IS ON YOUR BUCKETLIST?To travel somewhere with my best friend and to travel with my son.
WHAT IS YOUR GREATEST INDULGENCE? Sleep
WHAT IS THE BEST GIFT YOU'VE EVER RECEIVED? I was recently gifted a 'make your own remote control kit'. You can literally turn anything into a remote control. It's incredible and I can't wait to devise a practical joke with it.

WHAT IS THE ONE THING POPLE WOULD BE SURPRISED TO KNOW ABOUT YOU? I'm a mum! And I can play the drums

WHAT IS THE ONE THING YOU WISH YOU KNEW WHEN YOU WERE YOUNGER? I wish I knew that university and me wasn't going to work out and to trust my gut instincts.
WHERE IS YOUR FAVOURITE HOLIDAY DESTINATION? : Tokyo!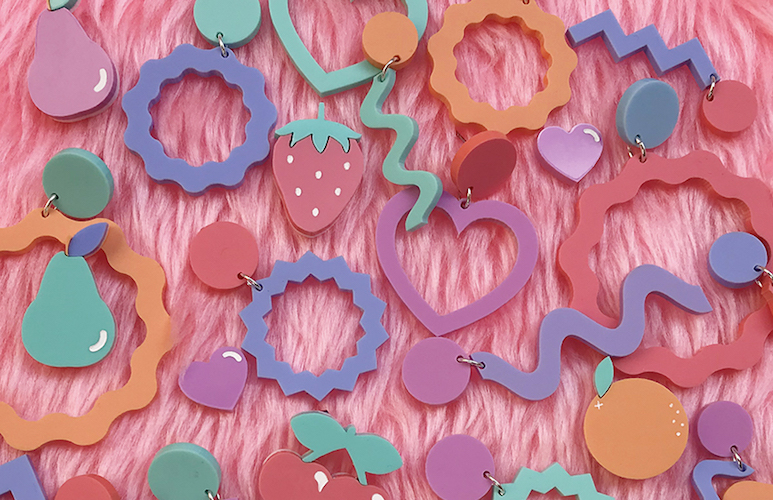 FAVOURITE PLACES IN BRISBANE :
EAT: PJ Steak in West End
DRINK: Death Valley Bar in Morningside
CHEF: My mother-in-law Kay!
RELAX: Bulimba – Excellent cinema and places to eat with friends
SHOP: Junky Comics
TO IMPRESS: Beccofino in Teneriffe is always a winner
CULTURE/ARTS: The Gallery of Modern Art in Southbank
EVENT: I recently saw Aladdin at the Lyric Theatre – it was amazing!
SUNDAYS: Rocklea Market
BRISBANE'S BEST KEPT SECRET IS: Junky Comics in West End! Such a great selection of comic books and locally made jewellery and gift wares.
NEXT EXCITING THING FOR ME IS: I will be at the Best of Brisbane event at Indooroopilly Shopping Centre from July 4-10. I will have lots of handmade and super fun jewellery available for purchase, as well as cute apparel.
MORE: If you would like to check out my online store and have your eyeballs dazzled with colour, head to www.yippywhippy.com

I also update my Instagram when I release new products/workshops etc. so feel free to follow me at @yippywhippyart