Brisbane's Banh Mì Bucket List
Every other guide was wrong; these are the best banh mìs in Bris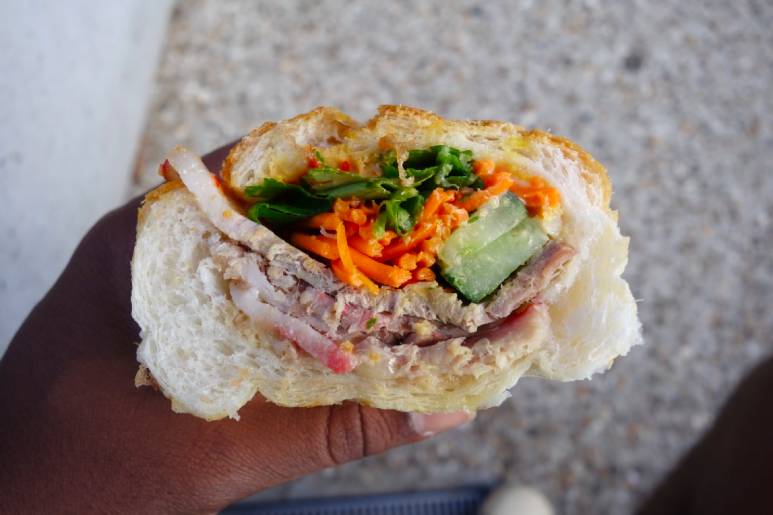 Is there a better representative of Vietnamese cuisine than the banh mì? The French-inspired bread roll in which all the fresh, spicy, tangy flavours that make Vietnamese cuisine great can be found. This delectable and stupendously affordable lunch option has been a food-craze in Brisbane for close to a decade now and doesn't seem to be dying off anytime soon. A true banh mì consists of a toasted bread roll that is crispy on the outside and soft on the inside, bo (Vietnamese mayo), pâté, pork, pickled carrots, cucumber, coriander and chilli. Perseverance and hard work were required but we answered the call. We present you with the best banh mìs in Brisbane.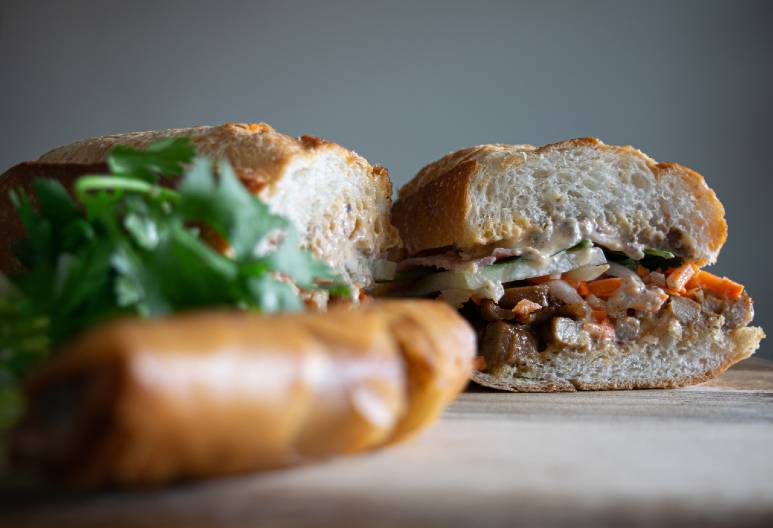 📷: Ben Lei
Kenmore locals were in rejoice when Kenmore Village Bakery opened to serve locals with their delicious Vietnamese fare. The area was crying out for a healthier, cheaper, takeaway option to the fast-food chains and that manifested in the form of their selection of wonderful banh mìs. Supply and demand baby! You'll find generous portions of grilled pork, lemongrass chicken, grilled chicken and pork balls stuffed into their house-baked bread roll.
Price: $6.50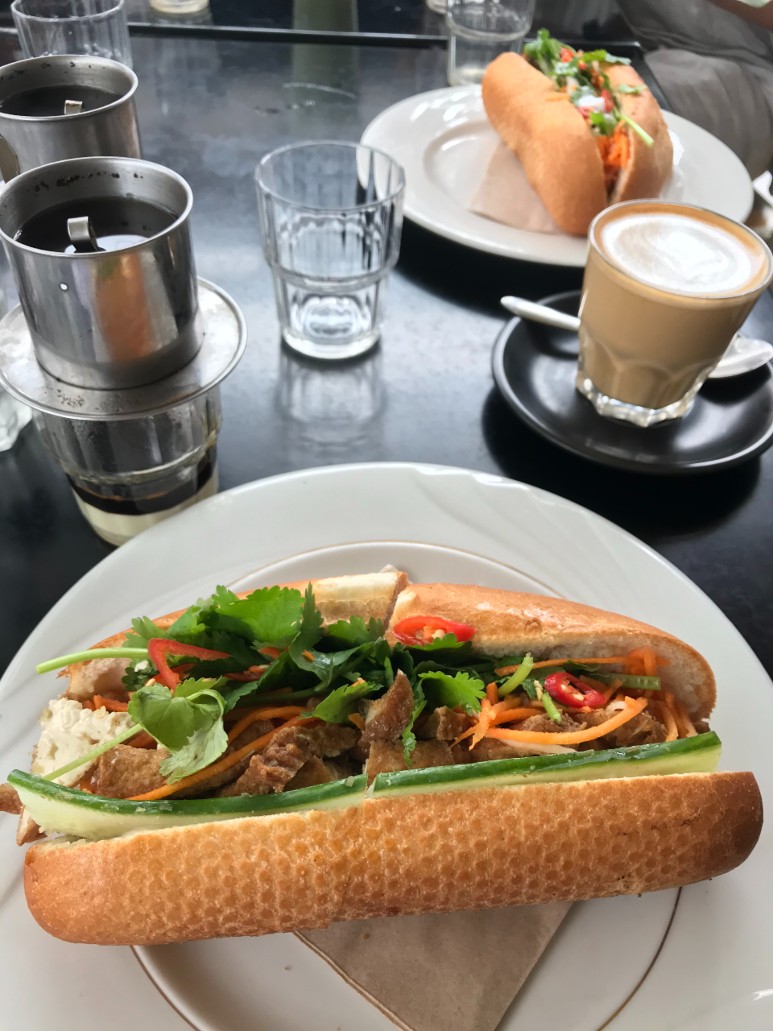 📷: Nikesh Gounden
Café O Mai have been crafting excellent banh mìs in Brisbane's inner-south since 2012. The lovechild of Vietnamese mother-daughter duo Kim and Margaret Nguyen, offers a range of banh mìs with the most popular being the crackling pork. A fragrant and perfectly cooked pork belly dashed with hoisin sauce that sends tastebuds into a happy-dance. Café O Mai would be higher on the list if it wasn't for the doughyness of their bread.
Price: $7.50 - $10.50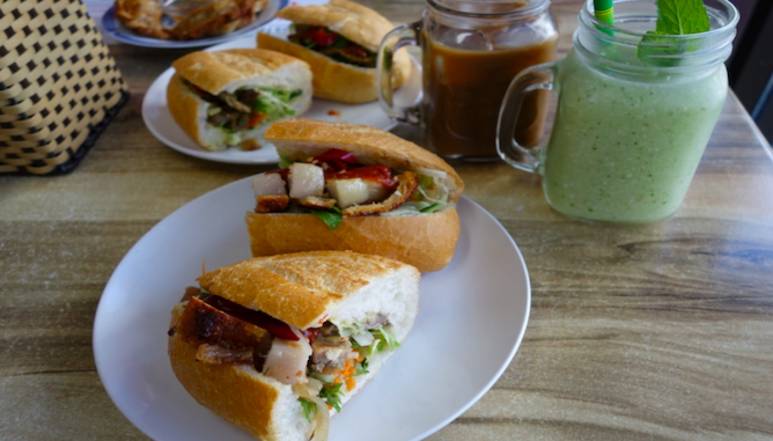 It's easy to miss District 1 which is nestled into the end of a small arcade on the corner of China Town. The unmistakable, hunger-inducing waft of Vietnamese food will confirm you have arrived at the right destination. A friendly, older Vietnamese couple await you with some of Brisbane's best banh mìs including pork belly and lemongrass sirloin beef. The freshness and quality of all the ingredients held out other quality competition from this list. A few bites in and we were singing the praises of this unassuming gem. Even the fresh chilli on request was noteworthy. At $11.5 the price is the only factor that is not perfect about this banh mì.
P.S They do a coconut-lychee slushee which is the perfect drink to complement your banh mì!
Price: $11.50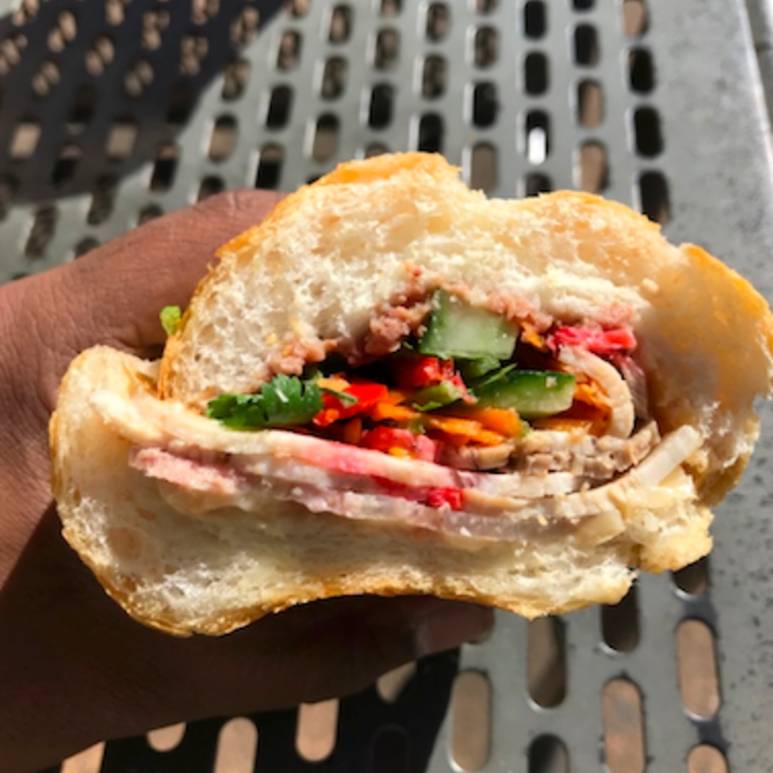 📷 : Nikesh Gounden
It should come as no surprise that 2 of the top 3 on this list are located in Vietnamese hubs of Inala and Darra in Brisbane's South-West. There are many strong contenders within Inala Plaza but Minh Tan have been producing the neighbourhood's best banh mìs for some time now. Although there is an extensive list to choose from, it's the heavenly 'thit nac' (lean meat) and tofu banh mìs which we recommend. Be warned, if you ask for extra chilli, you will get it.
Price: $6
📷: Nikesh Gounden

It appears that wider Brisbane has been sleeping on this family run Darra institution for too long although the steady stream of loyal customers knows exactly what's up. Often overlooked for rivals on the same strip, the pork salad roll from Darra Takeaway is one helluva banh mì. Every element from the cured pork and the sumptuous pork balls to the crisply toasted bread is perfectly weighted and assembled. At $5.50 it is the cheapest banh mì on the list, adding credit to its authenticity. Grab a Vietnamese iced coffee while you're at it for a truly divine lunch combo!
Price: $5.50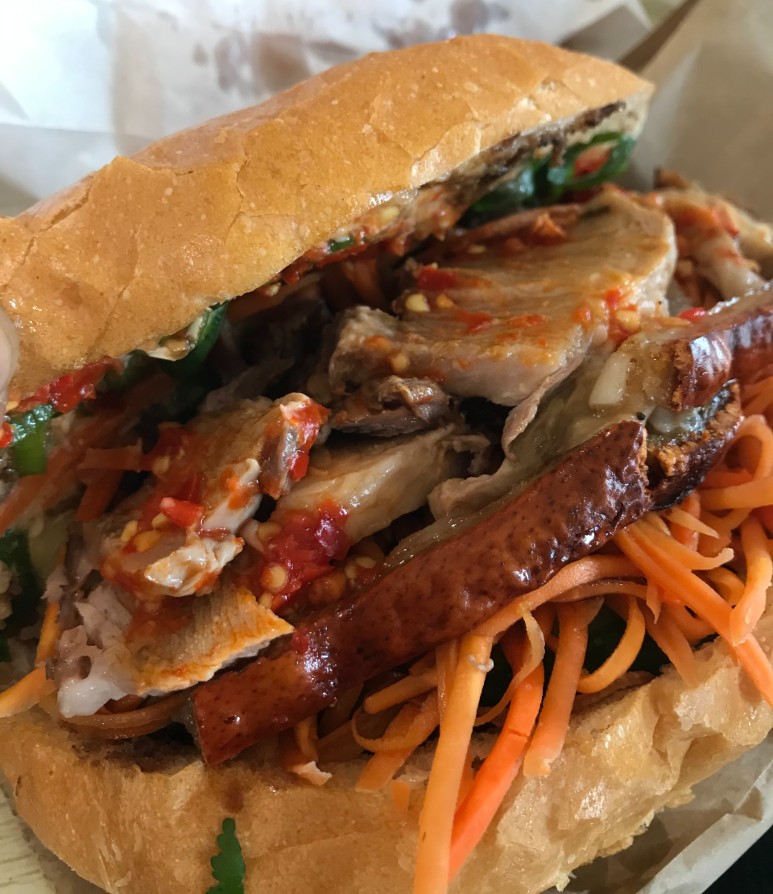 📷: Nikesh Gounden
Driving out to Wakerley for a banh mì drew parallels with Harold & Kumar Go to White Castle. The mission great but warranted for the promise of the ultimate banh mì. Whispers of Mr Bill's Vietnamese Canteen had traversed Brisbane reaching our ears and leading us to conduct some reconnaissance. The reviews were praiseful and the photos too tantalising to disregard. At the entrance of an industrial warehouse site in Wakerley sits, quite unassumingly, Mr Bill's Vietnamese Canteen. Turns out that Mr Bill is a Darra local himself, you can take the man out of Darra but you can't take the Darra outta the man.The banh mìs that Mr Bill produces are a thing of dreams. A large, flaky but soft, toasted bread roll packed with crispy pork and all the other delicious condiments. Each bite juicy, tangy, spicy and encompassed by that warm, pillowy bread. Is there really one banh mì that reigns supreme? The answer is yes and it is found at Mr Bill's Vietnamese Canteen.
Price: $8.20
Now that we've done all the hard work, life should be easy peasy banh measy!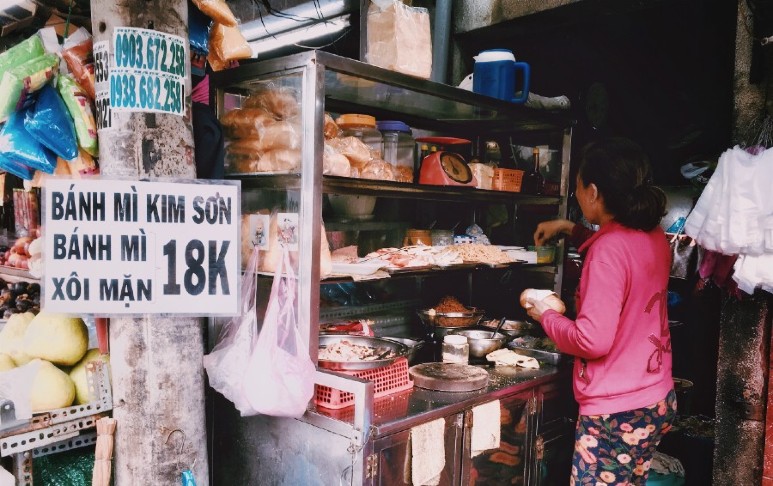 📷 : Van Thanh
About the Author

There are 3 F's that are prominent in Nikesh's life; food, French and footwear. Having combined the former 2 during his bakery tour in Bordeaux for 2 years, he is now hustling sneakers, eating pastries (still) and praying for the Brisbane Broncos.