Brisbane's Most Haunted
Spook yourself silly with these local tales of horror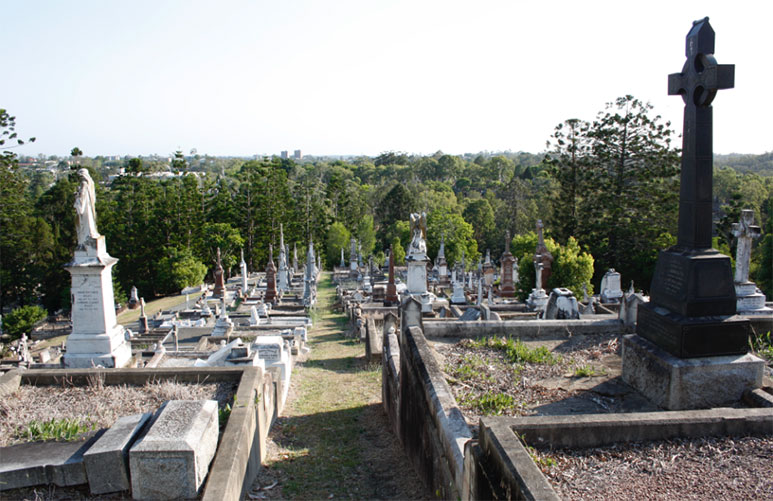 Lately we've been throwing back to 2008 and binge watching a whole lot of Supernatural. All those ghosts and ghouls, vampires and werewolves got us thinking about Brisbane's own spooky past. What nasties are there waiting to be found, what truth is there to rumour and where can we go to get our thrills being terrified to our hearts content?
Halloween is nearly upon us, check out Brisbane Ghost Tours for some spooky historic ghost tours that take you to all the haunted places in Brisbane with an eerie Tour Guide.
Toowong Cemetery
When it's been listed as one of Australia's most haunted graveyards, you know you're in for a hair-raising time. This place is a heritage-listed cemetery that opened back in 1866, which means there are 150 years of ghosts waiting just for you. It has been speculated that the notorious serial killer Jack the Ripper is buried here marked by a headstone that reads "Bessie – died 25th June 1957 – and her husband". There is one legend in particular that stands out amongst others here; the legend of Spook Hill. The story goes that Spook Hill, or Twelfth Avenue is haunted by the spirit of a child who died in a car accident. If you park your car I the middle of the road, facing uphill and let it roll, the car instead of rolling backwards, rolls forward, drawn towards the spirit of the child. Spooky!
Goodna Cemetery
This one makes the hairs on the back of our neck stand up just thinking about it. Some seriously wild tales have emerged from the Goodna Cemetery, which used to neighbour the Woogaroo Mental Asylum. People say that the ghosts here are not any old ghosts, but the departed souls of the mentally deranged. It is said that the ghosts or whatever else is lurking in the shadows often leave visitors with scratches and scrapes, looking like they just scrambled through the bush for days. Local legend tells a tale of a man whom one night was scraped up in the same way and went to seek shelter in his car. However although the engine was on, the car would not budge from it's spot and the next day when the sun finally rose and the man was free to leave, the sides of his car was covered with scratch marks as though the hands of something not quite human had been holding him in place in the darkness. We think we'll pass on visiting this one!

Boggo Road Gaol
The Boggo Road Gaol is another Ghostbusters delight that is open to the public for tours and viewings. Full of stories of executions, hangmen, riots and escapes the Boggo Road Goal held many famous prisoners and some of them still drop in to say hello today. Over the years there have been many stories from wardens, inmates and visitors alike – tales about seeing the ghost of child killer Ernest Austin near a wall in A Wing where the gallows used to hang or a formless white shape hovering in the yard.
Old Government House
Old Government House at QUT Garden's Point is nice enough by day - you can wander through, admiring yourself in the gold gilded mirrors and looking at the different historic and art exhibitions within, however, come night, we'd hate to see what stares back at us from those mirrors because this place is been called one of the most haunted buildings in Brisbane. The word on the street is that the state's first governor Sir George Ferguson Bowen haunts this building and can be seen walking up the stirs slowly, a powerful figure, nodding his head slowly. Other tales of a man in white pants and a top hat, strange orbs of light, windows that slam open and doors locked from the inside also are a plenty in this haunted house.
Brisbane Arcade
The Brisbane Arcade is one of those old-fashioned arcades with wooden panelled walls, fancy golden lights and ornate iron balustrades. In fact, this arcade in the city's CBD is Heritage Listed, but that doesn't stop it from being haunted and haunted it certainly is – or so some people will tell you. Over the years many a shop owner have told stories of footsteps after dark, slamming doors and the apparition of a lady with her hair in a bun dressed in eighteenth century garb. They say this lady moved too fast to be really human. One rumour is that this woman is Mary McIntosh, wife to the notorious Patrick Mayne – in limbo to atone for her family's wrongdoings.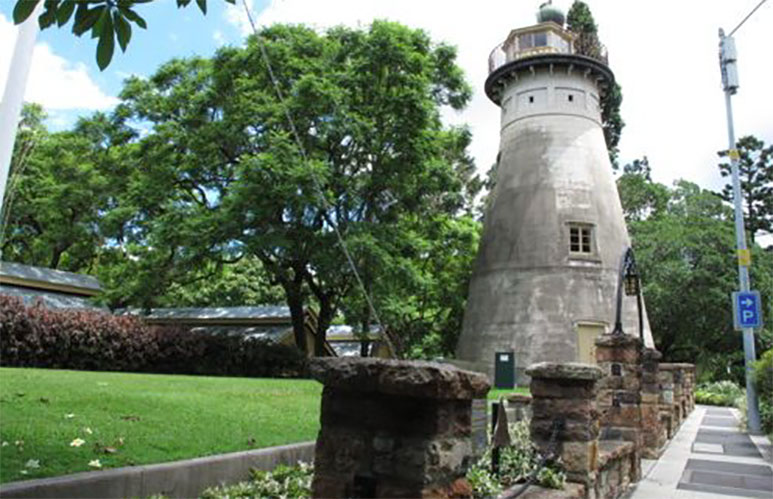 The Tower Mill
The history of The Tower Mill is a grim and saddening story if ever we've heard one. This building has had a long and colourful history – flourmill, signal station, fire-watching tower and meteorological observatory. However, with most colourful histories there is normally a dark side and The Tower Mill does not disappoint. Chained convicts were used to operate a treadmill inside the tower and in the 1841 the tower was used as gallows to hang two aborigines convicted of murder. Some locals swear that to this day, when they look at the tower, they can still see a figure inside the tower swinging to and fro.
Whepstead Manor
Although this house is now residentially owned, there are still plenty of stories from the glory days when ghosts were seen running amuck on more than one occasion. Built in 1890 for the Burnett family before it became a convalescence home for sick people in 1936. There are several ghosts said to be seen – one of a Chinese worker who hanged himself in a tree, and the lingering smell of lavender which some think is Burnett's wife. A mysterious woman seen lingering in the windows, a man in a bowler hat in the attic, the ghosts of two children who yank painfully at hair and candles that light on their own are all images of this one very colourful and terrifying historical home.
About the Author

Laura Morley is a Brisbane-based writer. When she's not writing she enjoys drinking coffee, stretching her back and crying at bad films.