Father's Day Feast
Ultimate Dad's Day Guide for where to eat & drink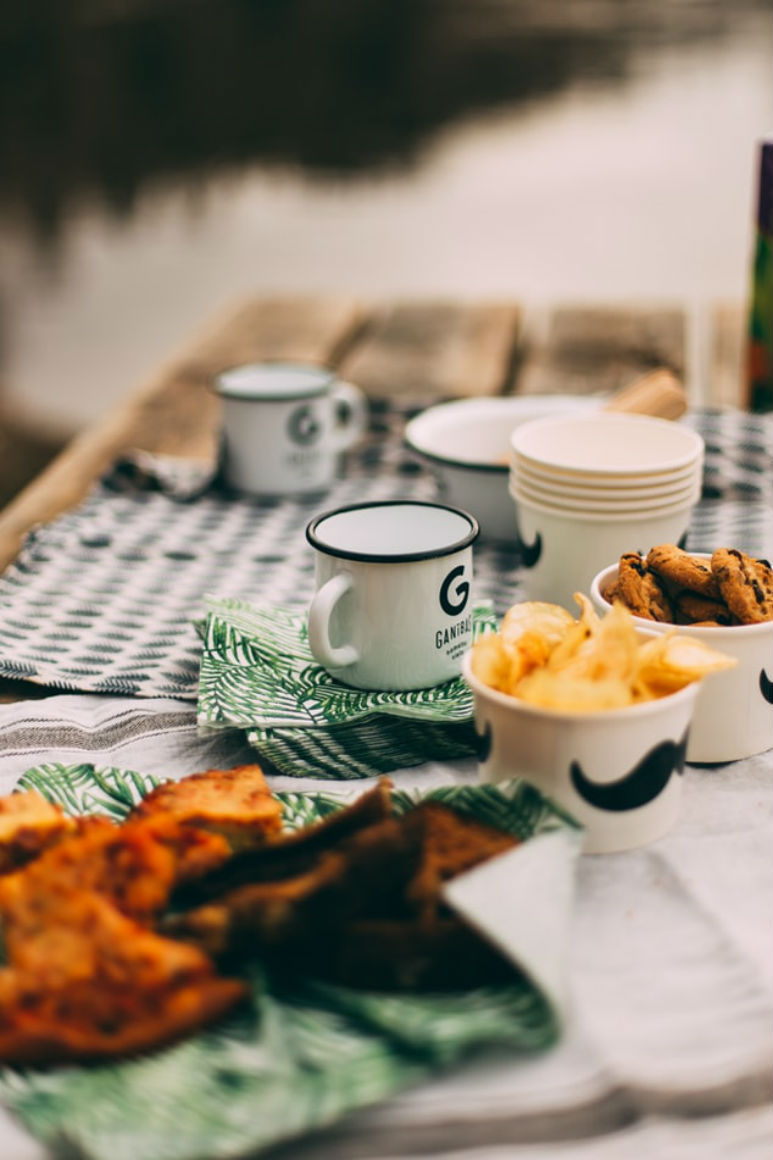 The day to truly celebrate your dad is right around the corner. Chuck on your best suit and get those dad jokes ready. Here's your ultimate guide to all the perfect restaurants and bars in Brisbane to spoil your dad this Father's Day.
Beers & Cheers

Good beer and good food? Count me in! With a focus on craft beer, a historic exterior and transformed interior, Brewhouse is perfect for any celebration. That includes celebrating dad this Father's Day. Who can say no to these special brews and tasty chews right in the heart of Brisbane?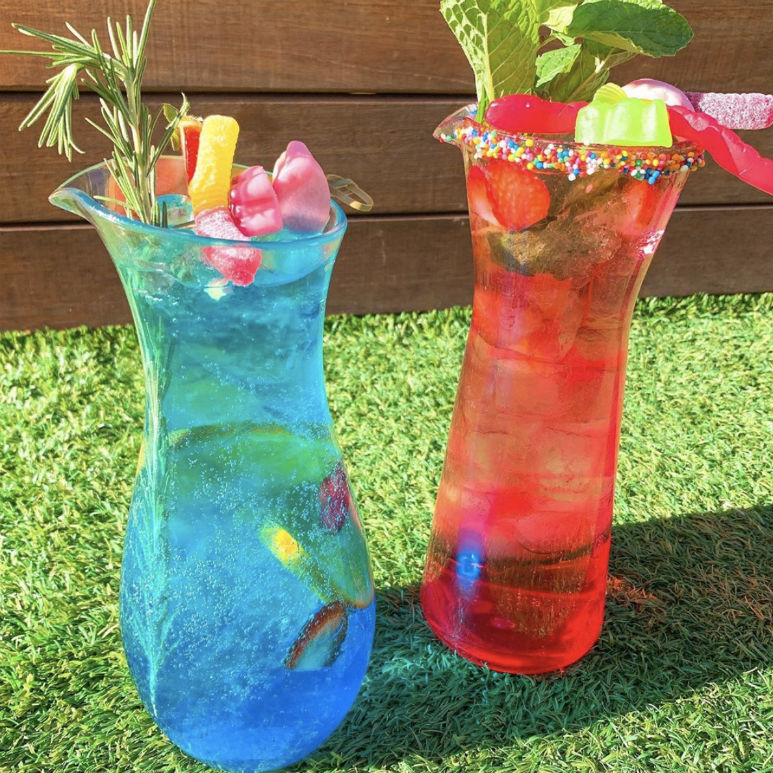 X-Cargo should be near and beer to your heart. Their Latin American inspired menu features mouth-watering burgers, tacos, loaded friends and vegan options. There's sure to be something that dad will love!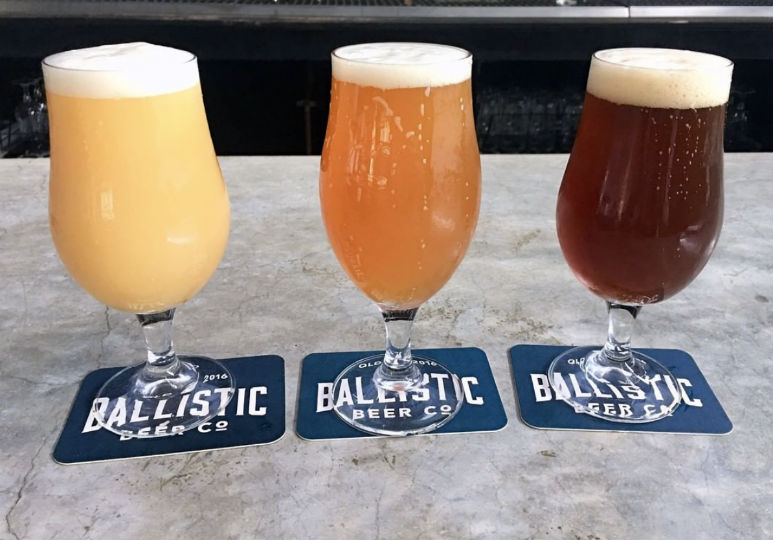 They mean serious beers-ness at Ballistic Beer. Treat dad to their range of award winning quality craft beers that are on offer. It's the best way you can thank him for being simply ham-azing.
Dixie has got you cover, from breakfast to lunch or dinner. I can guarantee everyone's taste buds will be satisfied here. The quality food, drinks and live entertainment will make the day fly by. Before brew know it, Father's Day will be over for another year.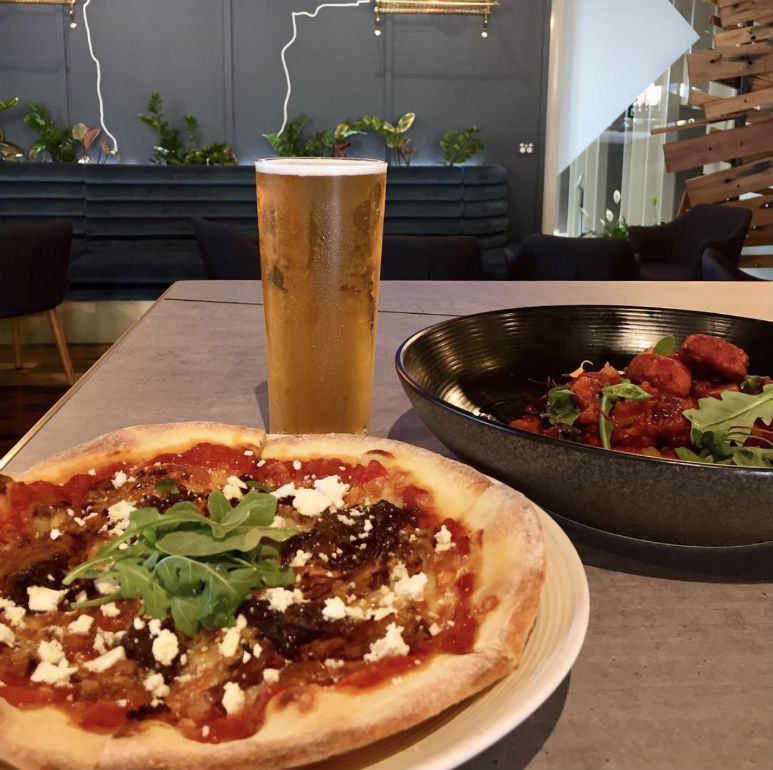 92 beer taps and carefully crafted cocktails. Sounds like a Father's Day made in heaven. This will quickly become your home away from home. If your dad enjoys a good laugh amongst loved ones and isn't one to shy away from an afternoon of beers and barbeques, then he'll fit right in at the Father's Day smoke house! Bring the whole family along for an afternoon full of banter, smoked meats, classic brews and old-fashioned cocktails.
Bistro Eats

Why not spoil dad with his favourite pub feed this Father's Day? Steak and frites take centre stage at Les Bubbles Bar and Bistro! Dad is sure to be smiling from ear to ear by the end of the meal. It will be an absolute mis-steak to miss out on this opportunity.
Food with a View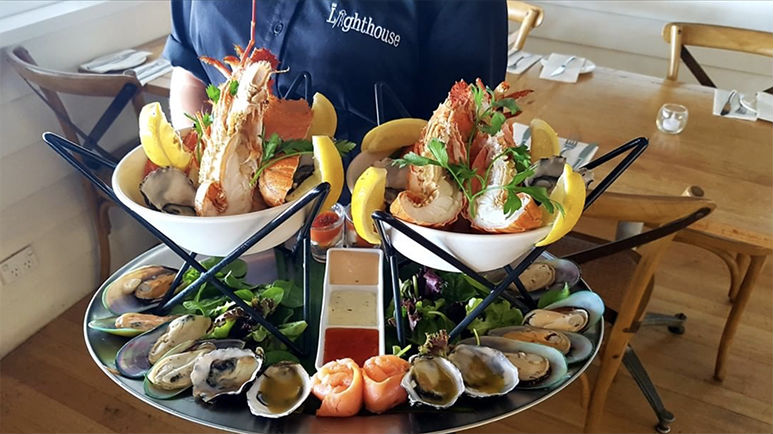 Treat dad to some ocean views and the choice of multiple dining experiences. Choose from seafood, café or fish 'n' chips takeaway. Everyone's sure to be jelly that you went here. Water you waiting for?
It's time to take your dad to Brisbane's highest restaurant and spend some quality time with him over a Father's Day Smorgasbord Breakfast. It's a great way to kick start dad's day and ensure he has the best Father's Day ever.

Celebrate the family's handyman, barbeque extraordinaire and jokester and enjoy Father's Day at The Glen Hotel. Head down for the buffet breakfast and feast on sweet and savoury favourites. If your dad wants to sleep in, don't worry. There's lunch and dinner options too, with $17 pizzas all day. You can even relax with dad into the afternoon with live music.
What better way to celebrate dad than with a champagne breakfast, a bellissimo brunch or a luscious lunch? There's food that the whole family will like, but more importantly there's something that dad will love. Everything from Moroccan beef or marinated chicken, to pan friend salmon or red Thai duck curry.
For the Foodie

Would you and dad rather get a sweet treat? Want some desert after lunch or dinner? Donut worry! Nodo has plenty of delicious donuts to treat dad with on Father's Day. Enjoy delectable, wholesome and gluten-free food without compromising on taste or texture.
If you're after something beyond Brisbane, this is for you. Treat dad to something a little fancy, Father's Day Gentlemen's High Tea. Spend your Sunday brunch or lunch sampling a range of delightful treats. Whether your dad prefers sweets or savoury, the menu has got it all covered.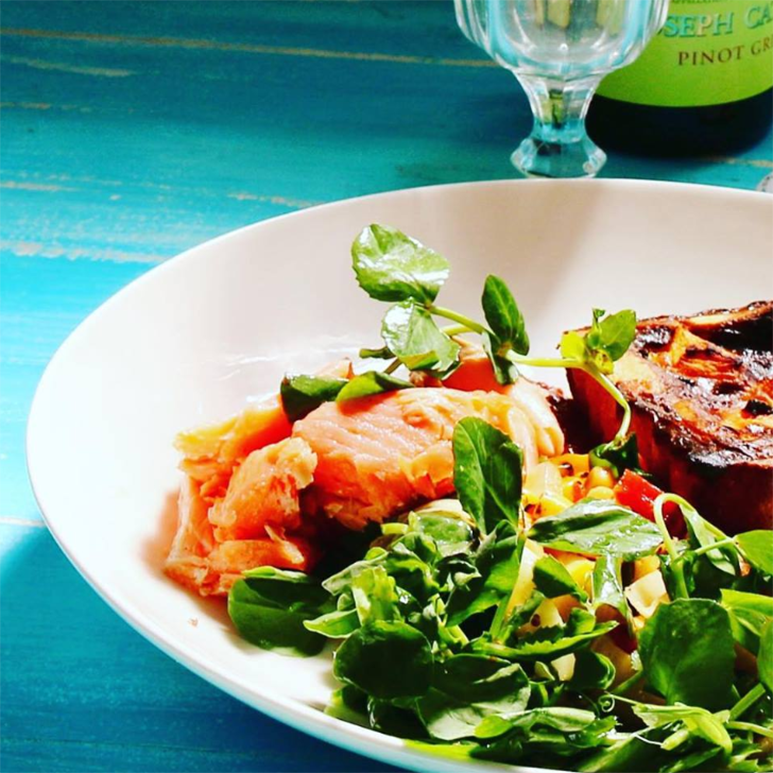 Putia Pure Food Kitchen is sure to keep all dads happy this Father's Day. With delicious healthy food on offer, Putia is a café, restaurant, cooking school and pantry all rolled in one. Showcasing a huge range of gluten free, vegan and vegetarian options as well as catering for meat lovers, the whole family will feel at home here. Doesn't that sound egg-citing?
If you want to celebrate your tee-rific dad, then consider heading to the Hundred Acre Bar in St. Lucia. Overlooking the St. Lucia Golf Course, you can enjoy a meal with the whole family before a round of golf. This is sure to be a Father's Day that your dad won't be able to fore-get.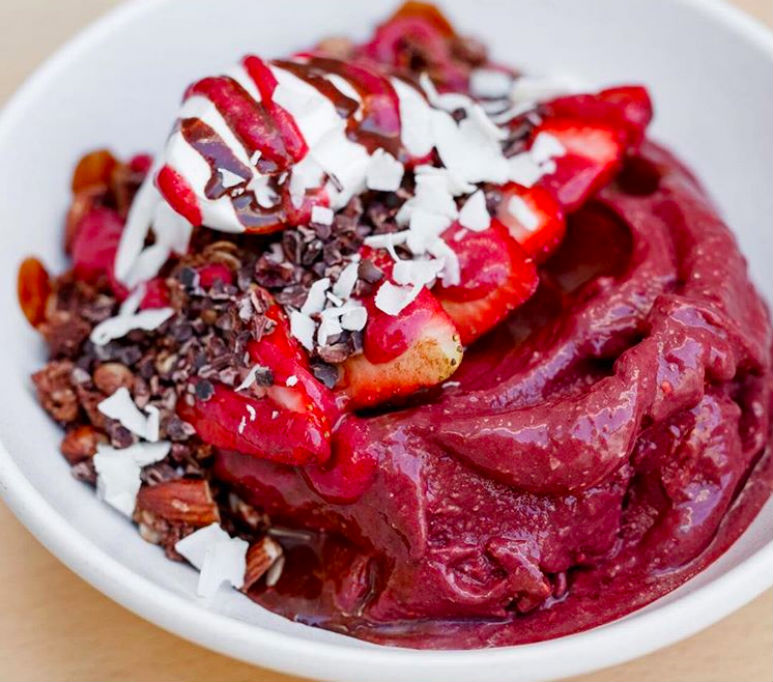 Wholesome and healthy. The perfect combination for those dads that are still on a health kick. The focus of Mylk + Ko is on real food and supporting local where possible. Their menu caters to all tastes, but I recommend convincing your dad to try one of their drool-worthy acai bowls.
King Street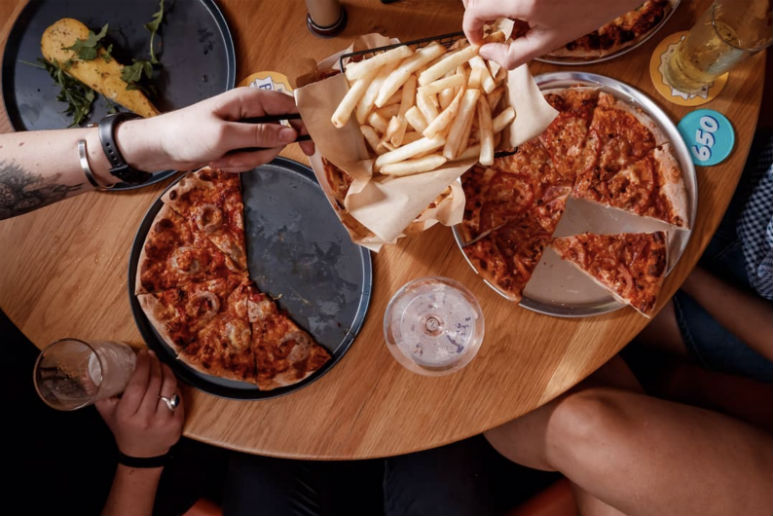 Beers. Games. Pizza. Need I say more? A built-in pizza joint with cheap pizzas, chicken wings and milkshakes, and a permanent burger truck with some of Brisbane's best burgers, what's not to love about this place? Make sure your dad is bready, because he's going to be treated this Father's Day.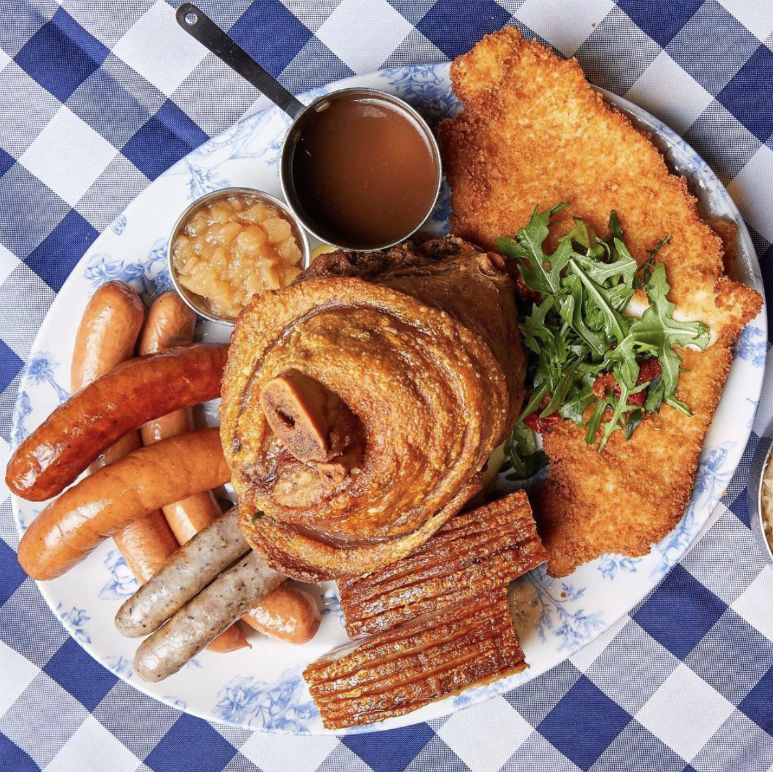 Head to the Bavarian BeerHaus this Father's Day and dad will receive a FREE pretzel! Doesn't that just sound like the perfect present? Take your tastebuds straight to Germany with their giant feasting platters, crispy pork knuckles and massive steins of beer. There's definitely something that dad will love. Spoil dad right beer, right now.
Treat dad to something off Montrachet's seasonal French menu and extensive French wine list. You'll really step up your dad's expectations for every Father's Day in the future. White tablecloths, silver cutlery, rich timbers and a well-stocked bar will make you all forget you're in Brisbane.
To Impress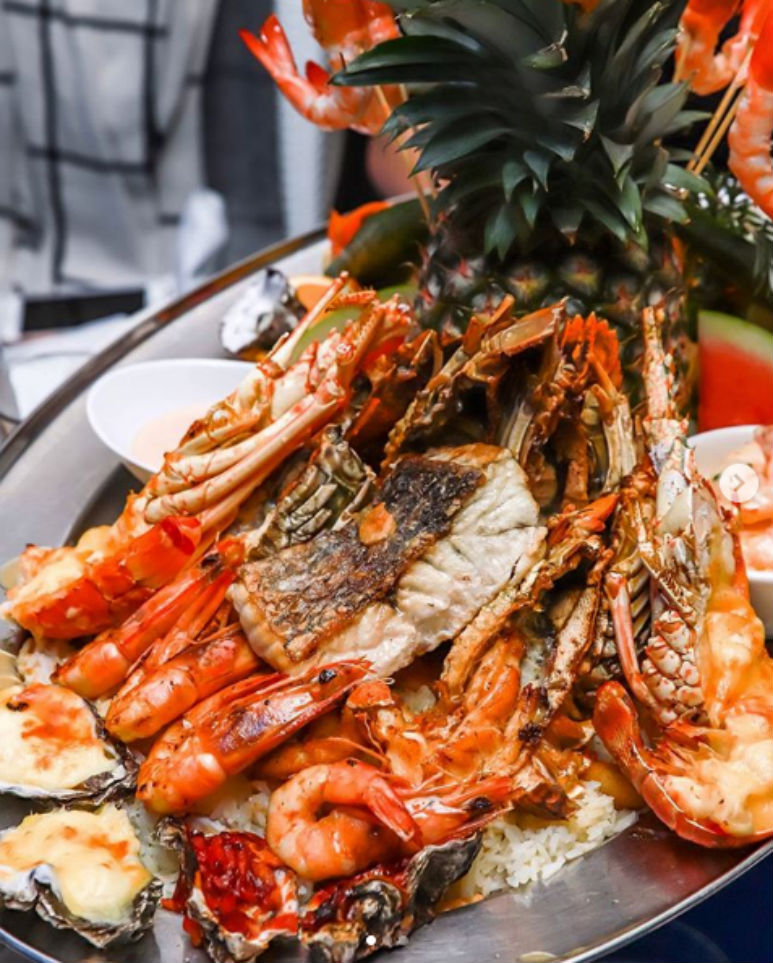 George's Paragon serves up some of the freshest Mediterranean-style seafood right on the banks of the Brisbane River. Cod you believe it? The food's so good, you'll fish it was Father's Day every weekend.
River views and seasonal fare. What a way to celebrate dad. Why not take this celebration to the next level with the bottomless brunches or high tea on offer at Patina? It'll be sure to keep everyone full until next Father's Day.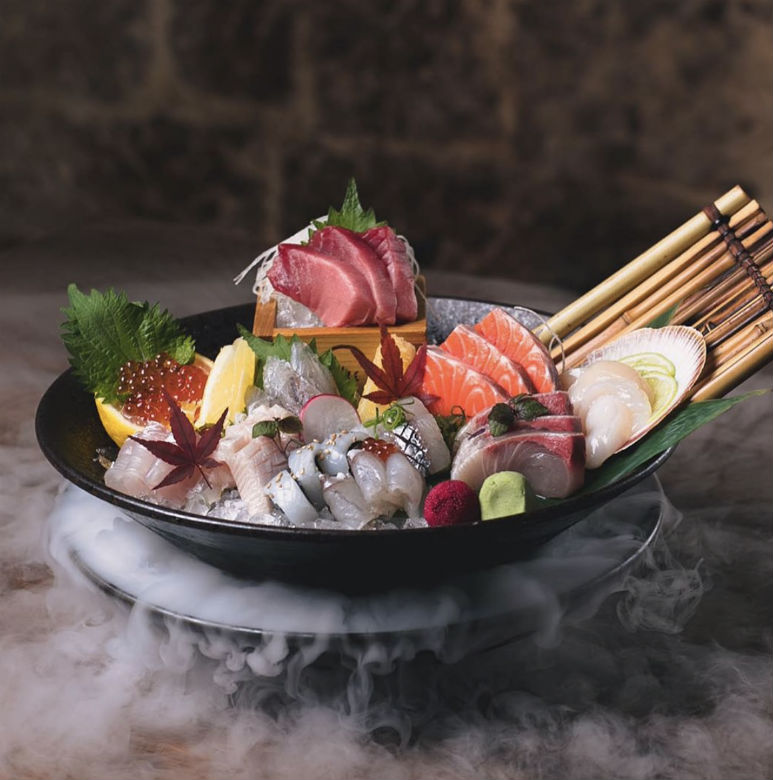 Want to take your dad on a trip to Japan, but don't want to pay for the flight? Don't worry! Saké Restaurant & Bar offers all the same flavours, without all the hassle. If that isn't enough to convince you, all dads dining at Saké will receive a complimentary glass of Sapporo beer. That's definitely going to make dad have a beer-y happy Father's Day.
Want something that tastes like nonna's home cooking? This is the perfect place to wine and dine with dad this Father's Day. Enjoy the extravagant view as you pull at pieces of pizza and chink wine glasses as you wish dad a happy Father's Day.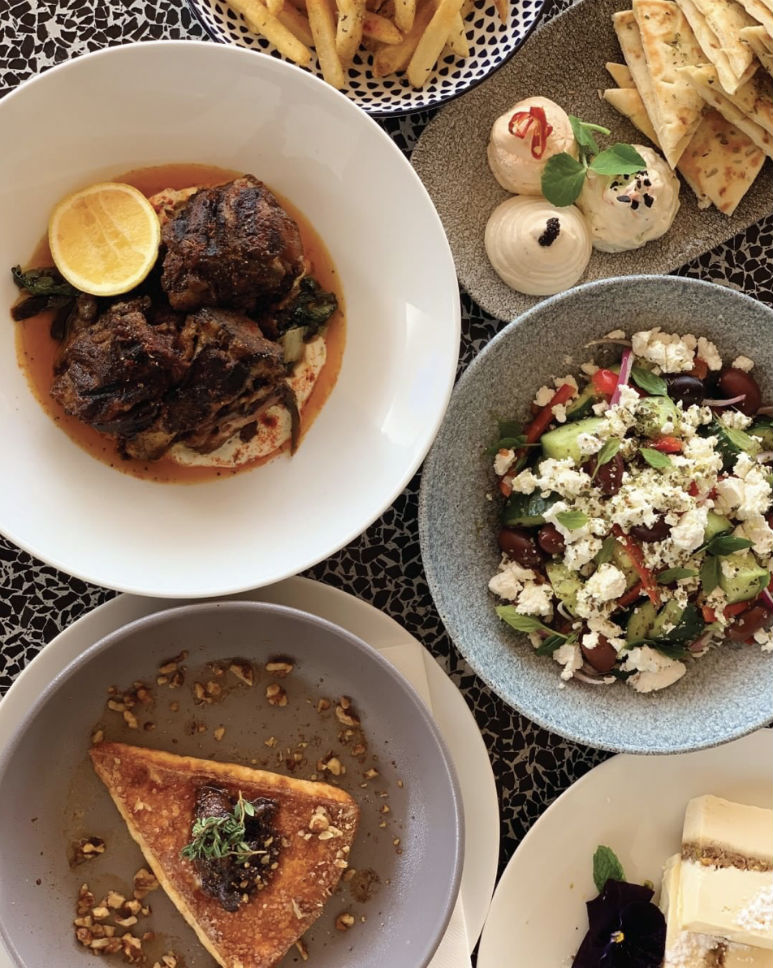 You feta watch out for this. Why go to Greece to experience the authentic cuisine when you can enjoy it right on your doorstep? Treat dad to a Greek feat and celebrate Father's Day at Nostimo Restaurant Bar. You can indulge in their modern Greek share-style menu. Can't decide? Just choose their banquet for the whole table and dad will get a complimentary Fix or Mythos. You know what they say – what Athens in Greece, stays in Greece.
Providing a variety of world-class steak cuts, this premium steakhouse ensures a memorable culinary experience with its intimate and relaxed atmosphere. Blackhide Streakhouse will wow your dad with class, cuisine and charm, and will quickly upgrade you to favourite child status.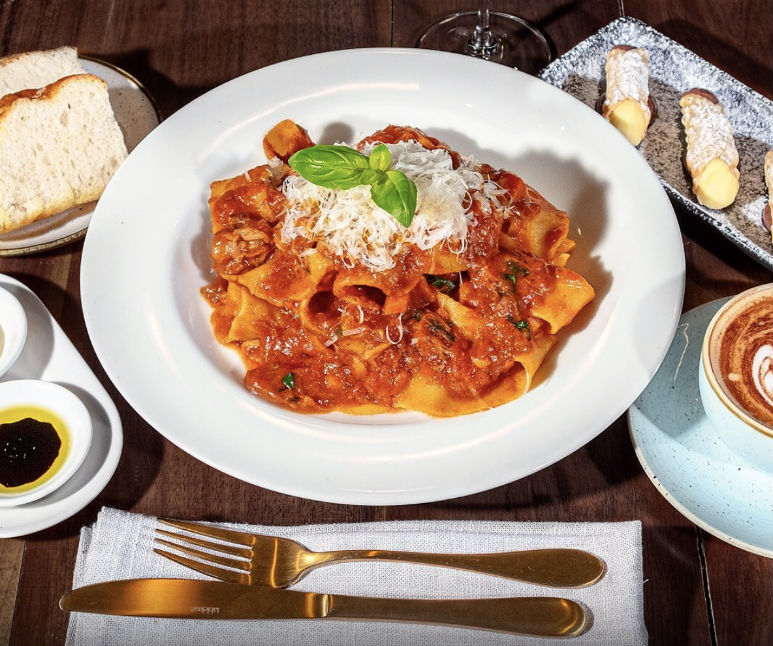 Step into Italy right in the heart of Brisbane. Offering a spectacular panoramic view of the Brisbane river and city skyline, exquisite Italian cuisine, and excellent service, Persone is the ultimate destination for Father's Day this year.
Fire up Father's Day by going to Kabuki Teppanyaki. Get ready to catch some eggs and fried rice, and spend the night watching your food being cooked right in front of you. Most certainly an egg-cellent way to celebrate dad and everything he's done for you.
Bars
Do yourself and dad a flavour and spend Father's Day at Stokehouse Q. Overlooking the Brisbane river, you can take full advantage of the warm Queensland weather while soaking in the sun and sip the day away.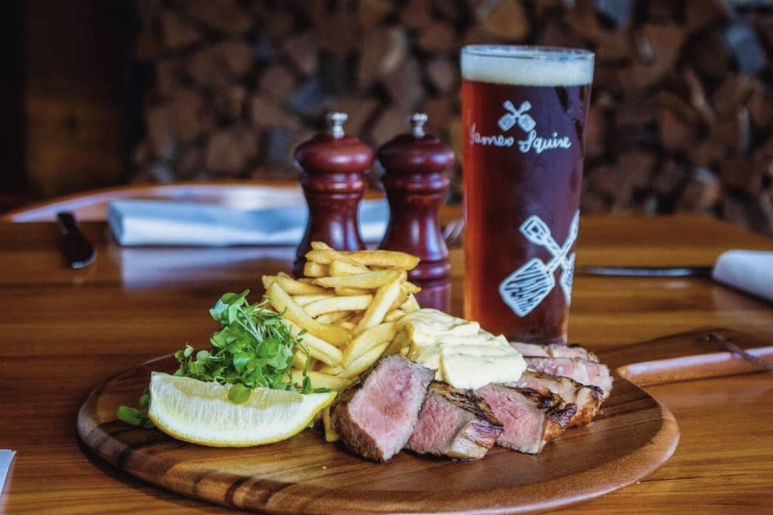 What dad doesn't like beer? Taking dad to The Charming Squire is sure to be a win this Father's Day. Order their Father's Day special and dad will get a free off-the-woof beer to wash it down. That'll make him one happy chappy.
Take a swing here. Victoria Park's Father's Day Feast is the ultimate buffet lunch for dad to really dig-in to. Mouth-watering roast meats, mixed roast veggies and gourmet salads. That's enough to get anyone's stomach rumbling. After lunch, head over to the pop-up bar and treat dad to a drink.
After something classy, but casual? Jade Buddha Bar & Kitchen is the perfect go-to for just that. Just stroll is at any time of the day, relax with your family and celebrate dad with a glass of wine, a cocktail, cold beer or cider in hand.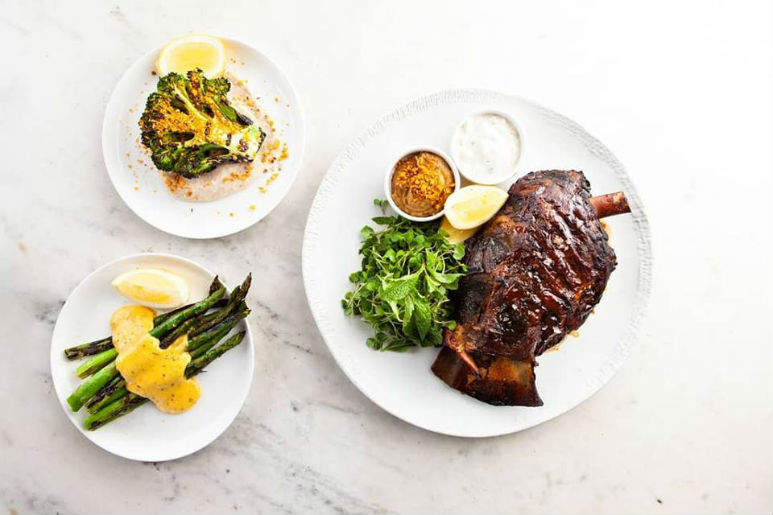 Eleven Rooftop Bar allows you to soak up every moment of Father's Day – the stunning views, seafood, rosé and relaxing tunes. Find a space where you can relax and get away from the hustle and bustle of your everyday grind.
Get a taste of the USA down under. Head to Buffalo Bar to celebrate dad this Father's Day and he'll get treated to a gift pack. If you still need more reasons to go, there are $15 burgers available all day, plus a Stone & Wood hamper to be won. Isn't that a grape way to thank dad for raisin you?

Indulge in real food, stand-out coffee, local craft beers, crisp wines and original cocktails. Dad will be extra spoilt here, with Three Blue Ducks pouring $5 Young Henrys Natural Lagers all day to celebrate. Make sure to head down and cheers your Old Man. Plus, every dad who dines will get a gift from them. Dad will be grinning from beer to beer.
Let the fresh ocean air wash the city off you. Kick back and enjoy all The Full Moon Hotel has to offer this Father's Day. Enjoy the Texan BBQ feast, live music, and a relaxed arvo! It's o-fish-cial, this is the best place to take the greatest dad ever.
Although dad couldn't protect you from every bump and booze, you still need to say thank you. There's no better way to do that then to check out one of these bars or restaurants this Father's Day. What are you wheating for? Go on and celebrate!
Want some gift and experience ideas for dad this Father's Day? Check out [Father's Day Gift + Experiences]