Stunning Sunday Drives
Leisurely, lazy local escapes
What are Sundays for if not leisurely drives to somewhere easy on the eyes. There's something special about a Sunday afternoon, time seems to tick slower somehow, and the sun has a little more glitter in its shine. Surrounding Brisbane there are so many dreamy, hidden pockets of nature that you could scarcely imagine being so close to the city. That's why we've compiled a list of perfect Sunday drives you to treat yourself to on the first Sunday you can (but you can do it on other days too!).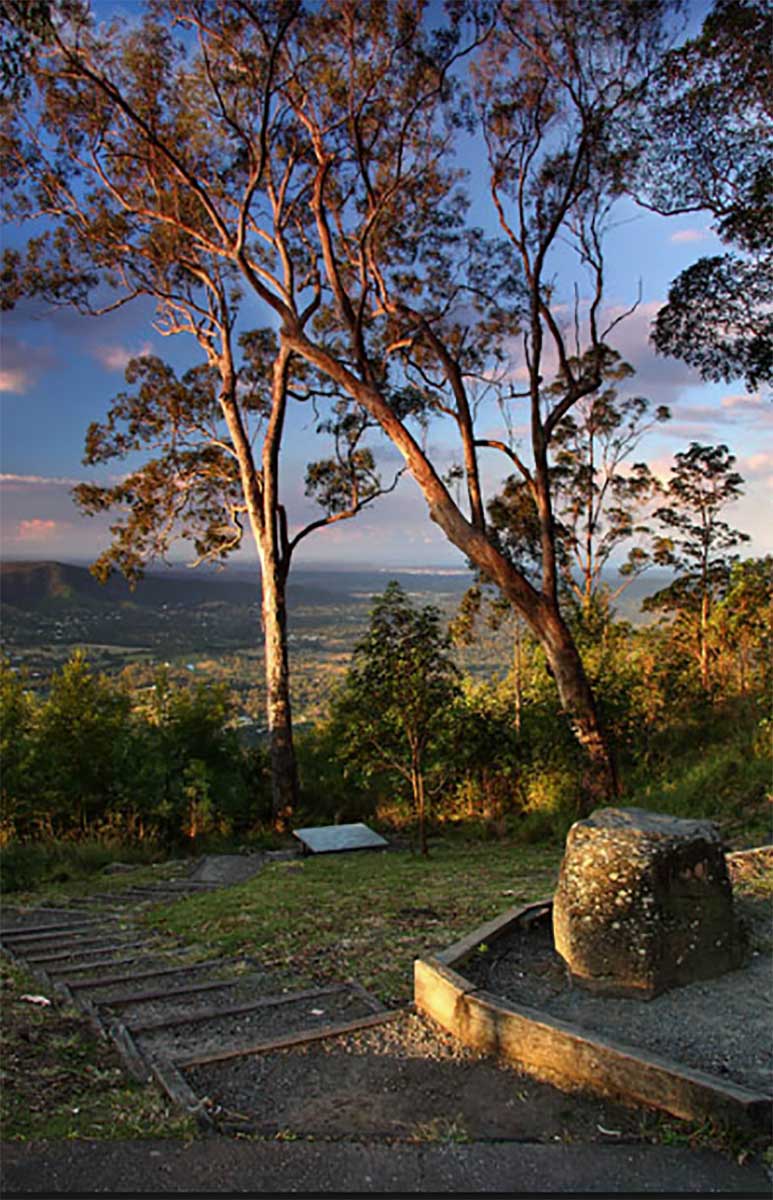 It was a total accident the first time I stumbled upon this pretty trip. There I was, innocently taking my boyfriend and myself on a drive in the direction of what I thought was The Gap Creek Reserve. Thirty minutes later and we'd been driving for far longer than intended, the road kept winding and to be honest, at the back of my mind I was thinking that maybe we'd taken a wrong turn somewhere. Well, it's hard to be angry though when the drive is just so lovely. This drive encompasses just a small section of the Moreton Bay region – where countryside meets the bay. Travel through lush farmland in Samford, to the D'Augilar National Park. Head up to the mounts, stop for a while to take in the spectacular view atop Jolly's Lookout on Mt Neebo, a perfect place to pause for a mid-morning picnic. Just 30 minutes north of Brisbane there is so much nature and beauty to be seen here.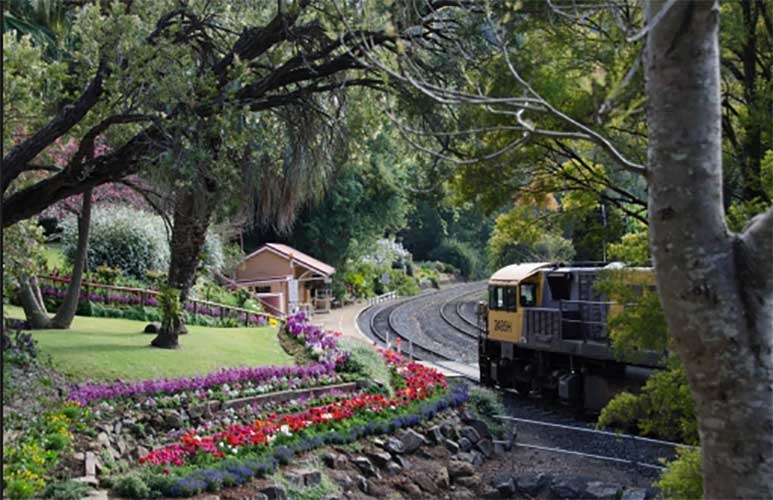 Spring Bluff is a stunning valley located just outside of Toowomba, probably most known for it's beautiful views and abundance of flowers. About an hour and a half drive from Brisbane via the Warrego Highway, Spring Bluff is well worth the trip, especially come spring when "Carnival Fever" takes a hold of Toowoomba. This place is a regular participant in the Toowoomba Carnival of Flowers, taking out top prizes most years. In September, tickets can be purchased for a scenic train ride from Toowoomba to Spring Bluff, where the train station is just as lovely and a heritage listed site. Tickets sell extremely fast so make sure you keep an eye out. The Bluff however makes for a beautiful day drip all year round, the café there is only open weekends, so this is one destination that was made for a Sunday drive!

There is a running joke in my family from years ago when we used to holiday at the Sunshine Coast. Our drive took us past the stunning Glasshouse Mountains and in a plea to get my brother and I to pipe down, we used to play a game where we couldn't speak until we saw the mountains. "I can see-wit!" my brother would screech with his funny lisp. The mountains certainly do cut an impressive sight, jagged and tall and stark against the scrubby surrounds. About an hour north of Brisbane these mountains make for a wonderful day trip, with plenty of hikes, waterfalls and streams around the area to enjoy. There are walks and summit routes, and opportunities for rock climbing and abseiling for those a little more adventurous. The area is rich with Australian history, nestled amidst the Glasshouse Mountain National Park. This is a day full of stunning views and lots of learning. Mt Tibrogargan is perhaps the most popular of the eleven summits and a good climb if you really want to see a magnificent view.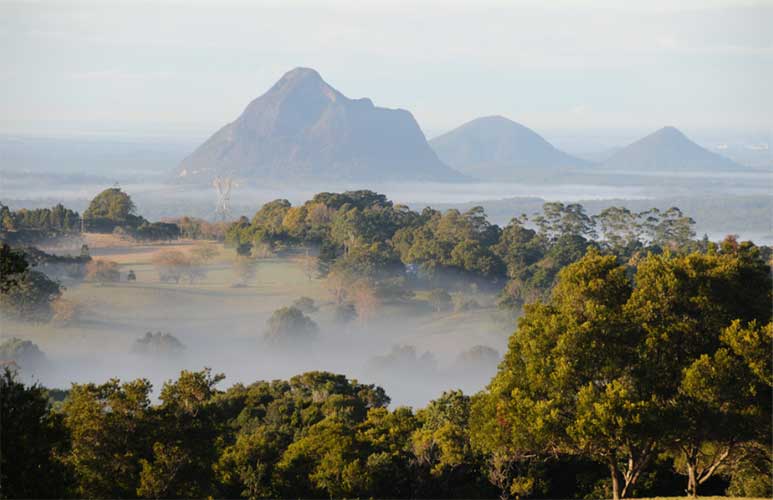 Maleny to me is almost too pretty to be a part of Queensland. The landscape changes completely in this gorgeous part of the Sunshine Coast Hinterland. Rolling green hills and scattered cattle grazing. Maleny is home to the wonderful Maleny Dairies, Maleny Cheese, they have wonderful botanic gardens and more views than you can poke a stick at - a popular one amongst visitors is Gerard's Lookout! Gardener's Falls is a dreamy place to cool down and have a swim or a picnic on any day and the streets are lined with cosy cafes, galleries and boutiques. Only around an hour and a half from Brisbane, this is one stunning part of Queensland you owe it to yourself to see.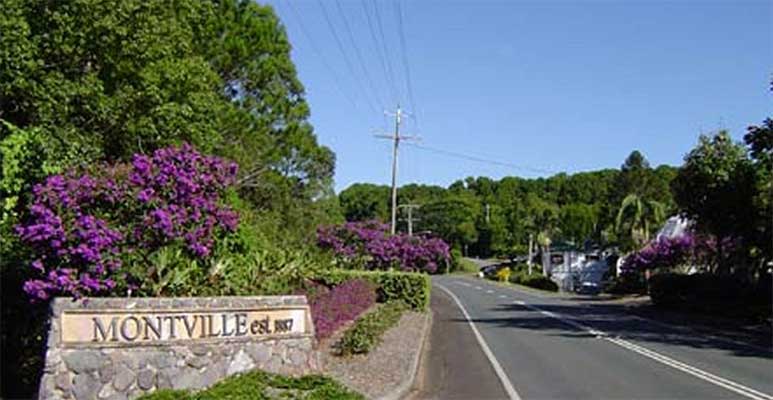 Montville
About an hour and a half drive out of Brisbane, Montville is a small town located in the Sunshine Coast hinterland and boy does it make for one heck of a Sunday drive. Also know as Maleny's sister town. Montville oozes charm, with English style cottages and cosy cafes lining the streets. It's predominately a logging and farming community, lush and green and full of art and culture despite its tiny size. Make sure to visit Kondalilla Falls, just outside of Montville for a quick dip to refresh yourself before the drive home or visit one of the beautiful vineyards the surrounding area has to offer if you don't feel like heading back just yet. We also recommend Mapleton along the Blackall Range Tourist Drive which is a popular tourist attraction for people visiting.
Where ever you Sunday drive adventure takes you, have fun and plug into nature's hi-fi… and forget about wi-fi. You can thank us later. And people love it when you drive really slowly while checking out the view… you can be one of 'those' Sunday drivers!
About the Author
Laura Morley is a Brisbane-based writer. When she's not writing she enjoys drinking coffee, stretching her back and crying at bad films.