NEALE WHITAKER TALKS DESIGN
PORTER DAVIS 'WORLD OF STYLE' LAUNCHES IN FORTITUDE VALLEY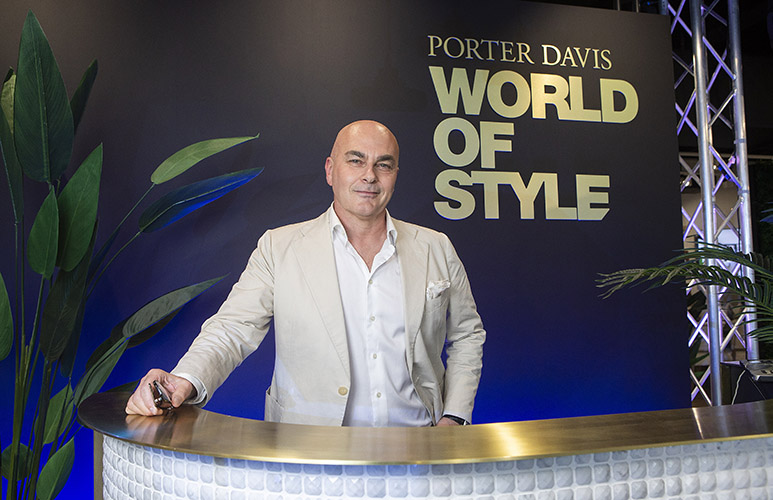 Last week, Porter Davis continued to bring next level design, style and innovation to Brisbane, with the official launch of its World of Style showroom in Fortitude Valley.
The VIP opening, hosted by interior design and style guru, Neale Whitaker brought together an influential crowd of interior designers, Porter Davis suppliers and developers, as well as local media and celebrity guests. Check out the social photo's here.
Like 'World of Style' in Melbourne, the Brisbane showroom epitomises Porter Davis design credentials, providing customers with a unique offering and a team of qualified interior designers on hand to advise on style, material selection and more.
The Good Guide was treated to a superb night of lovely wine, cocktails, carefully selected foods and great company at the Porter Davis 'World of Style' launch.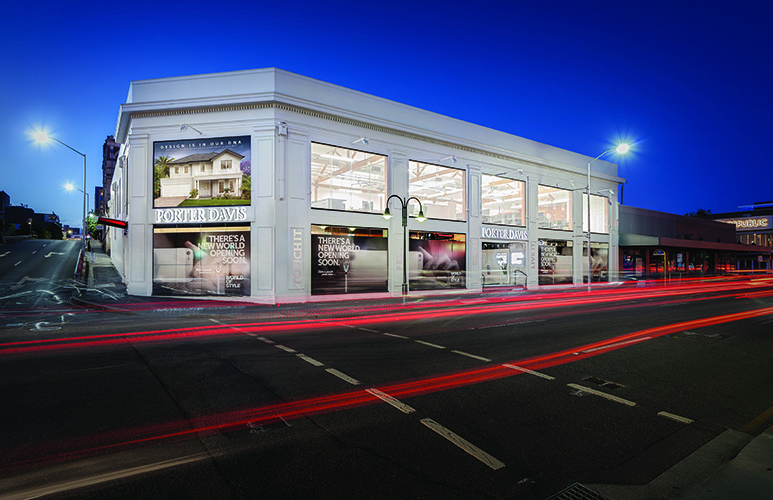 Porter Davis is clearly setting the bar high with their new design centre 'World of Style'. When it comes to building a home in an era of endless choices, images and design TV shows defining your style sometimes becomes a bit tricky. Building a new home can be a bit of a daunting experience and a little overwhelming when it comes to choosing and defining the selections and components that go into creating your dream home. Porter Davis clearly understand their customer's experiences and has created a space that can provide professional guidance with all the options to make your selection experience "easy". There is an amazing array of selections and contrasting styles to suit any individual taste.
We were fortunate to spend some time with World of Style brand ambassador Neale Whitaker and gain some expert design insights into current trends.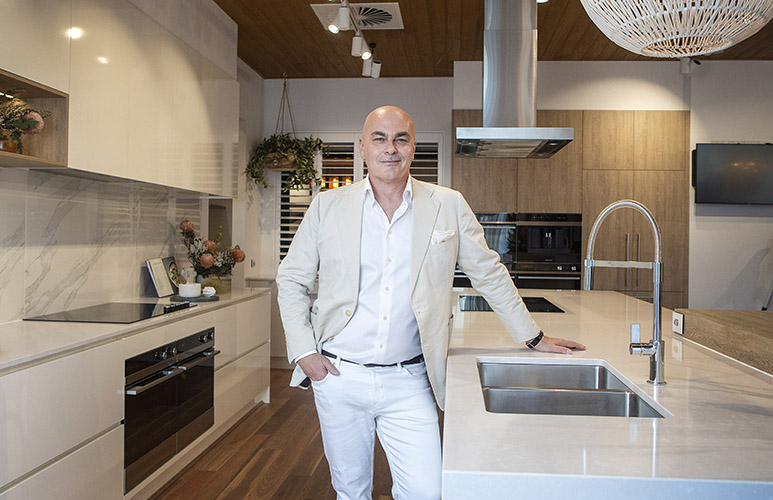 Neale Whitaker, ex-Belle Magazine editor-in-chief, lifestyle commentator, interior designer and a judge on the Nine networks "The Block" says,
"I work with Porter Davis on the 'World of Style' side and I see this as a style service which is beneficial. I think this service that they offer for people to help people find their style is very beneficial and very worthwhile."
What do you see as the key design trends moving into 2019?
Look, when anyone asks me about trends I always preface my response with the fact I am quite famous for being anti-trend in the industry, and what I mean by that is, homes are a very individual expression - they are about you, they are about me. Unless we are renovating or doing up purely to sell I think they are very personal spaces and we should fill them with the things we love as opposed to the things that are on trend. But having said that I've been a magazine editor most of my life so I think that we are definitely seeing a movement towards colour. I think it would be overstating the case that all Australians are embracing colour. Definitely, I see a lot more colour everywhere I go and a lot more willingness to experiment with colour, decoration and texture. Whether it's a mosaic tile in the bathroom or a splashback in the kitchen I do see colour creeping in. Just the mere fact and I know grey is a neutral but we are seeing a lot more grey as a bold colour in kitchen cabinetry. Ok, maybe you don't see grey as a bold colour but it's a hell of a move on from a few years ago where everyone just wanted white. So I think we are getting a bit more experimental and a bit more innovative. I think that interestingly we are becoming a lot more maximalist in our presentation. People are starting to display things again rather than hiding things away in cupboards. Whether that's in the living area the kitchen or the bathroom. We are seeing a display and curation of things that we own. A very, very big thing at the moment.
Do you have any advice on using bold colours?
I personally think bold colours need to be used very cautiously, but having said that I see lots of images of rooms that are all painted navy blue. Navy blue is a favourite colour of mine and the idea of painting whole rooms in colours like that, I actually love. I've been seeing at the moment all these combinations of blues and greens which I love. Green and pink, pink and yellow and I think it's very exciting. It does cause a lot of confusion. People see all these things on social media they see them on Pinterest and Instagram and want to bring them into their own homes and they have no idea how to do it.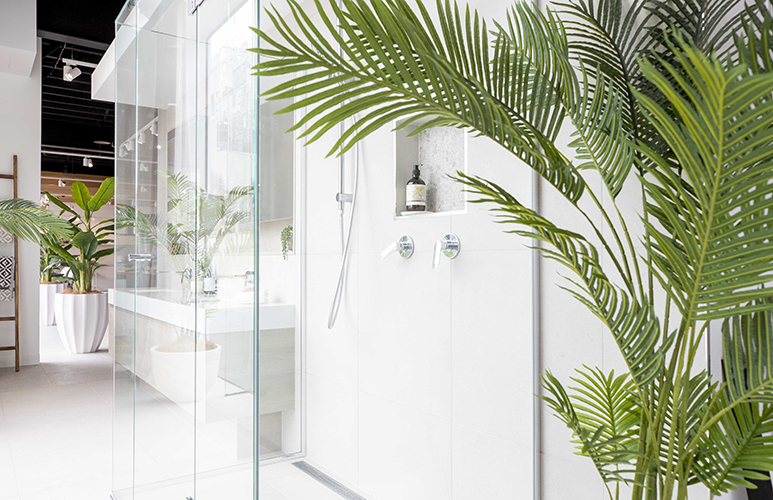 What do you see as some of the current trends in furnishings?
I think that the deco influence is still incredibly strong and been an influence for such a long time but even when I'm looking at contemporary furniture I'm still seeing references to the deco era even if it's being interpreted in a very contemporary way. Deco 1930s era is so resonating at the moment. I'm interested in the fact that it is turning up everywhere; for example fabrics like velvet. Once upon a time velvet was considered opulent, and I always thought velvet as a bit of a no-no in the home and the idea of velvet sofa velvet chair reminded me of an old cinema as a kid. Now velvet has crept into the home as a very everyday fabric. It's interesting.
With that in mind, do you think that velvet is a bit of a fad?
Look, I always think of trends as being macro-trends and micro-trends. Micro-trends are the ones that come and go very quickly and velvet, yes probably. A macro-trend would be something much more organic like the fact that we are all living open plan now and not using rooms like we use to. I think that's a trend that is not going to go away. But I think the dominance of art deco shapes, geometric shapes is very very strong at the moment and I love the fact that the other era that is dominating is the 70s. The 70s styles have been with us for a long time and there is such a link between those two eras. The 70s was absolutely influenced and informed by the 30s. Most 70s design whether it was fashion design or furniture design was influenced by art deco. That was the first time there was this huge resurgence of art deco. There is a strong link between those two decades. So you will see the 30s and 70s influences everywhere as I am. It kind of makes sense.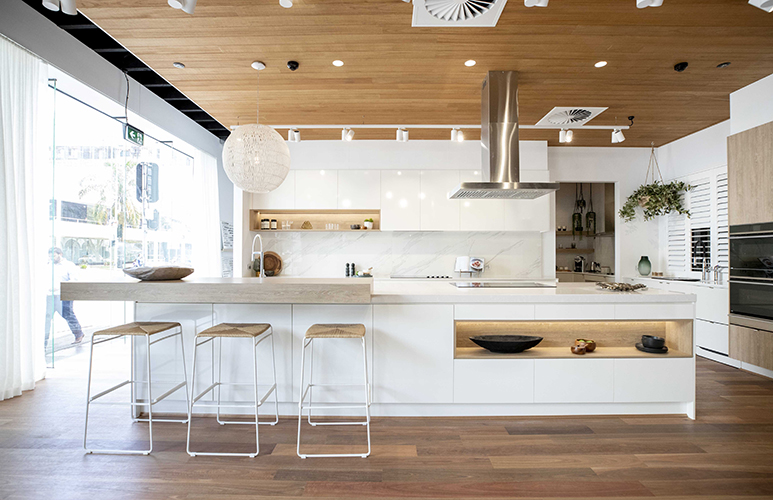 So what you're saying is you're seeing a resurgence of trends where everything is repeating. For example one of my style icons is Florence Broadhurst. it's amazing to see that type of opulence coming back into the home.
Yes, but what is so interesting to me is I'm starting to see very functional Scandinavian influence furniture and Industrial influence but with materials like velvets and the colour palettes that we are seeing with the mustardy, ochrey yellows and some of those greens that are so dominant like turquoise and they are colours that were so popular in the 1930s. So it's funny that a lot of young designers that I speak to think they are plundering the 70s and that interests me on so many levels because I remember the 70s and grew up in the 70s but these kids don't but what they are doing is sort of rehashing the idea of the 70s but that idea was informed by the art deco era. So they are getting a double hit of reference that they are not necessarily aware of and it's the same with fashion design too. I think that the 1930s was the most elegant era.
What are "the must haves" in new builds?
Depending on your budget and what you have to spend there are things that are always things being added to peoples wish lists. I mean once upon a time butlers pantries and walk-in wardrobes were only for the very rich. Now everyone wants them.
It would be those two things butler's pantry's and walk-in wardrobes are very very high on everyone's current list of priorities. In my job on "Love It or List It", it's the one thing we see over and over again on the homeowner's list. When they say they want a new bedroom what they mean is they want a master suit. No one just wants a bedroom anymore they want a master bedroom and ensuite probably with two showers and a bath. But they also want walk-in wardrobes, so our concept of luxury has shifted. It always does. It's the nature of life.
It's the luxury of space that's what people want. Although funnily enough like with everything there is always a converse and there is a trend towards space and people wanting more space but there is also a parallel trend to people downsizing looking for smaller dwellings that tread a little more lightly on the environment. The day of the McMansion with the six-bedroom house and parking for six cars which used to be the dream for my generation isn't the case anymore. So downsizing in one way but using the space more intelligently.
The world of style consists of four themes Classic, Designer, Contemporary and Resort. There are 36 stunning and individual styles created by their award-winning interior design team taking inspiration from local and international destinations.
The evening displayed the company's diverse management skills, a great brand ambassador Neale Whitaker and a clever acquisition of their newly appointed state manager Grant Whinnett. A clear recipe for success in the Queensland market. Hello Porter Davis 'World of Style' in Fortitude Valley, welcome to Queensland.
About the Author

Lover of life, design, style & fine wine. A passionate foodie who enjoys great conversations with great mates and live music.
Spending the last decade as an Executive Manager in design/development/construction Luke's worked across residential, commercial and hospitalilty/resort sectors with renown architects and design professionals….
A sererial entrepreneur, who loves horses, the polo, wearing loafers and his beautiful wife (best friend and business partner too) Lynnette and two young children. Luke's found his stride as CEO of Harry Harry Australia providing unique pieces to all of his favourite industries. The designer's choice. Moonlighting as a writer for The Good Guide, spreading his love of quality design and the good life.