Word On The Street #133
Rollin' With The Homies
Good times and crazy friends make the best memories, those moments where you look at each and think we are hilarious why don't we have our own reality tv show? I think everyone and their best friends have had that conversation at least once. Although sitting at home binge watching Gilmore Girls isn't going to make for great tv content, sorry. To help you bag that tv contract you and your bestie clearly deserve we've rounded up a list of some of our favourite happenings and places around brisbane for you and your besties to share in the good times. Cause life's definitely better when we're laughing.

Saturday November 3
We're sorry to the friends we've made stand on tables, in the middle of the road, lay on the floor and all the other crazy stuff to get the perfect photo. We're not sorry for the likes and follows you help us to achieve. You guys are the real MVPs. Real talk, taking the perfect Instagram is harder than it looks but thankfully for us Gasworks Plaza is here to lend a helping hand. For one day only, the Gasometer will be transformed into our Instagram heaven. Featuring six stunning backgrounds and experiences your followers are in for a real treat. The sunflower field with 100 real flowers and the Yeezy-style Indian motorcycle (complete with wind machine) are probably our faves. Did some say full blown photoshoot? I wonder how'd they feel about us taking our own lighting? As well as making us and our feeds look amazing The Pop Up Studios will also be hosting a bunch of other exciting activities including live tunes, delicious food and hundreds of $ worth of prizes … We've already picked out our outfits.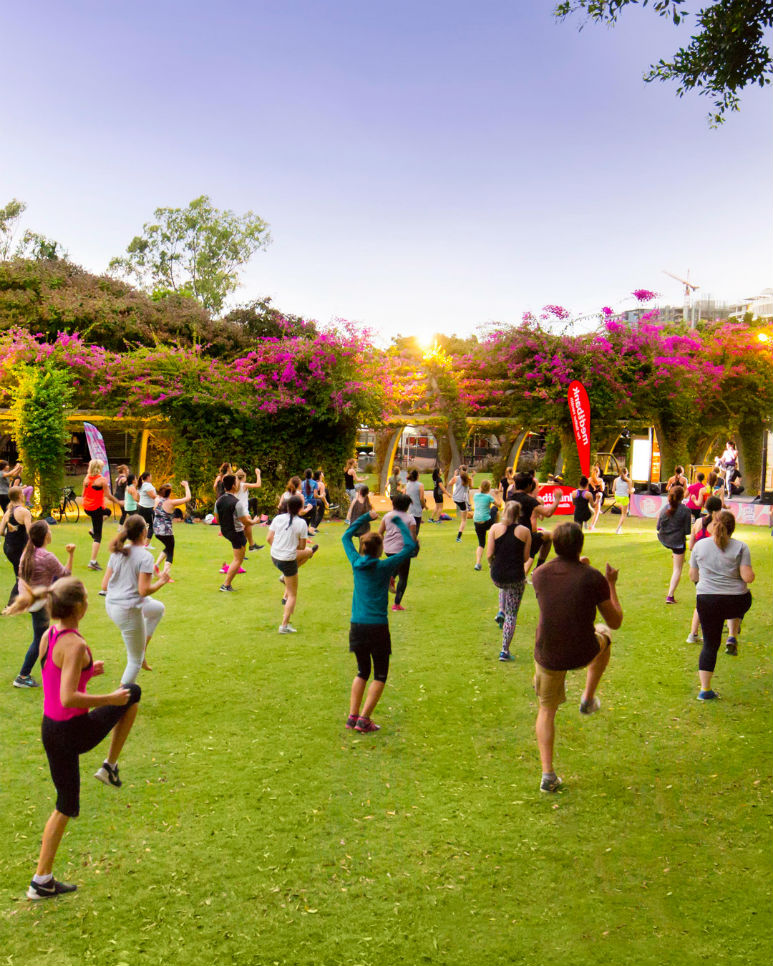 October 1 - December 1
Start every day with a dance party, you'll thank us later. While we workout out to look hella good we also exercise for that after workout feeling. You all know what I'm talking about that endorphin high and even though you can't breathe, and your muscles won't move you feel fantastic. Whether your cardio involves getting the chocolate from the fridge or you're a CrossFit champion there is something for everyone. We've definitely got our eye on those Zumba, HIIT and yoga classes. And remember no matter how slow you go you're still lapping everyone on the couch. And you have no excuse cause it's free. To view this full program click here.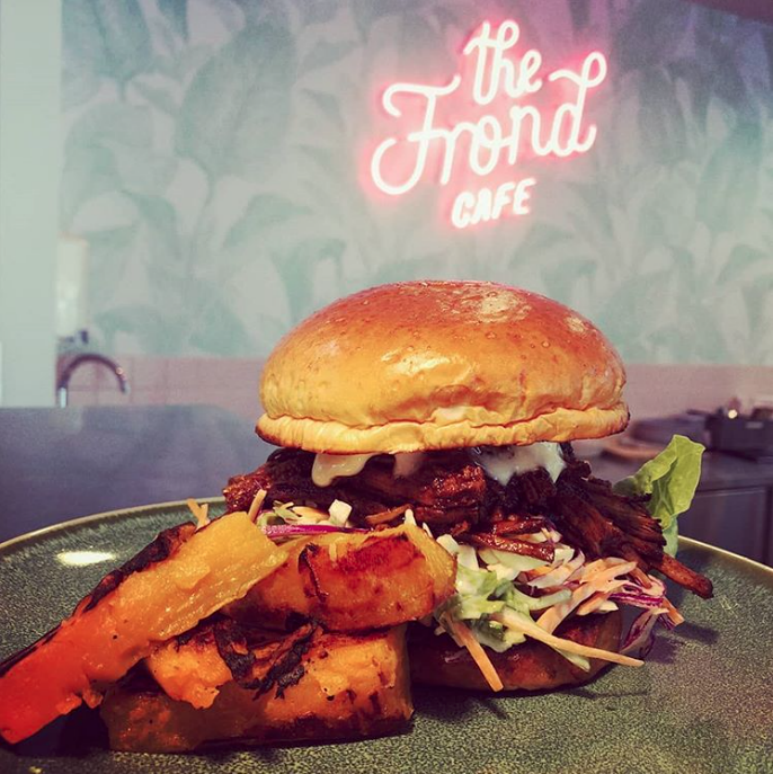 This café has possibly our favourite point of difference ever. If you're into supporting local farmers (and who isn't) you'll want to get down to The Frond Café asap. Their experienced chefs will be altering the menu based on the fresh produce they source from suppliers. Our current favourites are probably the stuffed portobello mushrooms and French toast with poached pear, YUM. And how cute is this the café is also selling picnic baskets filled with sandwiches, desserts, fruit platters and cold drinks for groups of two, four or six. If you weren't already in love with the amazing work owners Hadeel and Anders Doehler are doing you will be after we tell you this. Supporting local farmers is only the tip of the iceberg the café is also giving five percent of its profit to a rotating selection of charities. Wait there's more if you want to enjoy their coffee in a take away cup it'll cost you an extra 30 cents but all for a good reason. That amount is donated to Positive Change for Marine Life whose mission is to protect our oceans, reed and wildlife. We could cry with how giving this duo is and the world definitely needs more people like them. The work they are doing is nothing short of motivational and inspiring so thank you!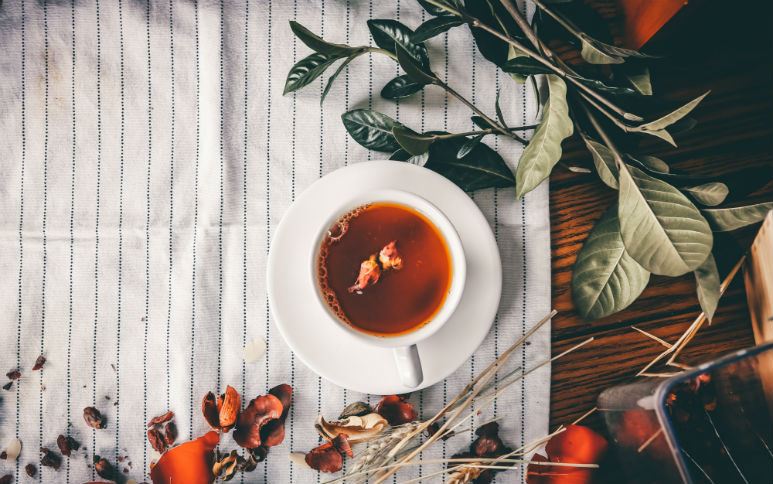 There is always time for tea! As avid tea lovers this is perhaps one of the most exciting finds to date. Tea is to the body as music is to the soul. Nothing excites us more than experiencing new blends and flavours of this sensational drink. Tour De Tea offers flavours that are sure to excite your tastebuds including Apple Crumble, Lime Coconut Calypso (yes please), Granny's Garden and Instant Kharma. If you're not an adventurous soul and prefer a classic they also offer more recognisable blends such as Classic Chai and English Breakfast. Each cup of tea is a voyage for your tastebuds, let the leaves transport you. Our recommendation is to take a book with you for that's the secret to a well-balanced life, a cup of tea in one hand and a book in the other. Did you know that tea is the most consumed beverage in the world after water, we're not surprised we drink that stuff like it's going out of fashion.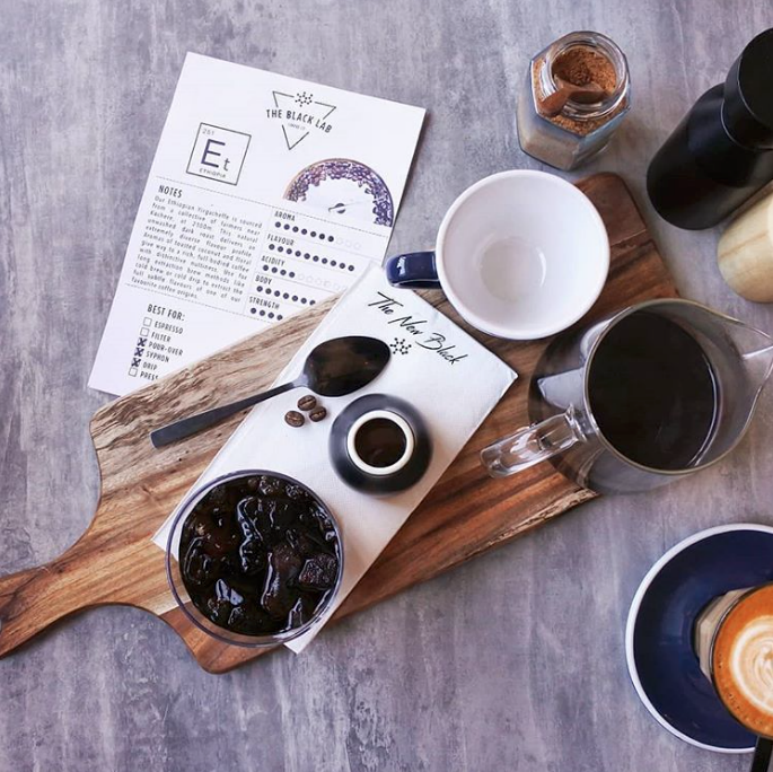 Like a phoenix rising from the ash as does The New Black on the corner of Bakery lane at the site formerly housing Lost Boys. If you haven't heard of The Black Coffee Lab let us tell you, you are missing out. The café is the coffee labs Brisbane Flagship store and we're ready for them to take us on a journey of flavour. Envisioned as Willy Wonka's factory for lab-style coffee we're hoping there might even be a fizzy-lifting drink room (fingers crossed). Just like Willy Wonka The New Black has been experimenting with delicious treats and let us tell you what comes out of their kitchen is pure magic. Not only have they crafted a seasonal menu that Is wholesome and delicious but of an evening their expertise extends to booze, tapas and share board. To sweeten the deal Cakes and Shit is their sister-business operating behind the café. We'll drink to that.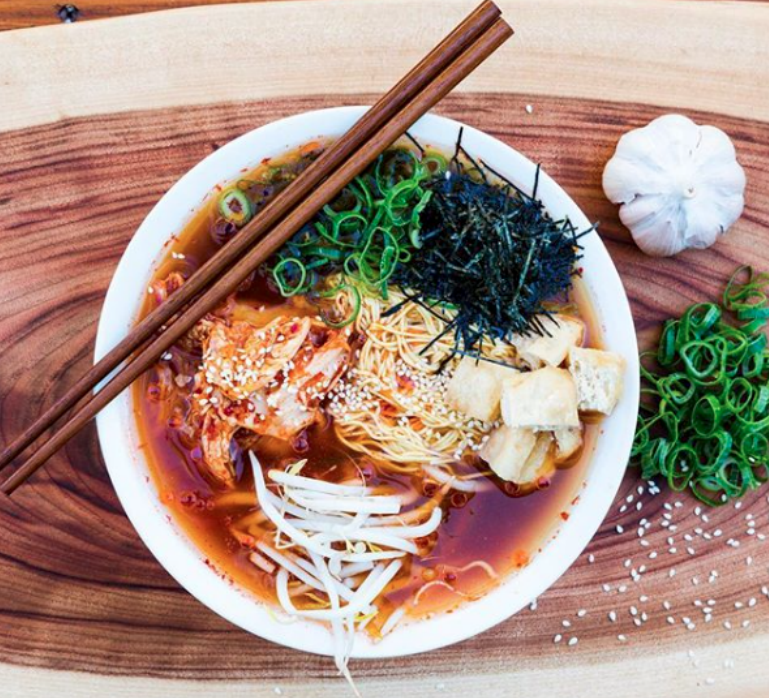 Brisbane fell head over heels for the I like Ramen pop up and as such we convinced them to stay permanently. The plant-based noodle mavericks are serving up a treat to the people of Brisbane after partnering with an all-time local face The Flying Cock. They're dispensing their delicious vegan concoctions to hungry patrons; think flavourful bone-free broths like spicy kimchi, white miso and shiitake/soy, topped with everything from bok choy and fried tofu, to roasted tomato and the famed vegan chick'n. Open for lunch and dinner we think they're going to need a loyalty card program cause we're thinking we'll be there a lot. These godly vegan eats have also been paired with a carefully curated speciality list of natural wines, we're serious can we get a loyalty card.
About the Author
You can win Paige over with a bunch of daisies and a box of macaroons. If she's not travelling she's plotting a way to get there, and where isn't on her list. She wants to see it all. She eats way too much haribo whilst watching movies in bed and has a huge addiction to boy bands.