9 Devour-worthy Dishes
Must-Do Dining this Autumn
Autumn signals the changing of the leaves and the start of warm, comforting meals. Devouring homely dishes that you can linger onto to escape the nippy weather while sipping on a delicious glass of red, feeling all warm and fuzzy on the inside. But hang on... we are in Queensland! So what do you eat when the mind thinks "yay, cooler weather" but IRL it is still "sweating in my Camilla kaftan" kind of weather? Fret no more.. here is our pick around Brisbane that might just feed those autumn musings.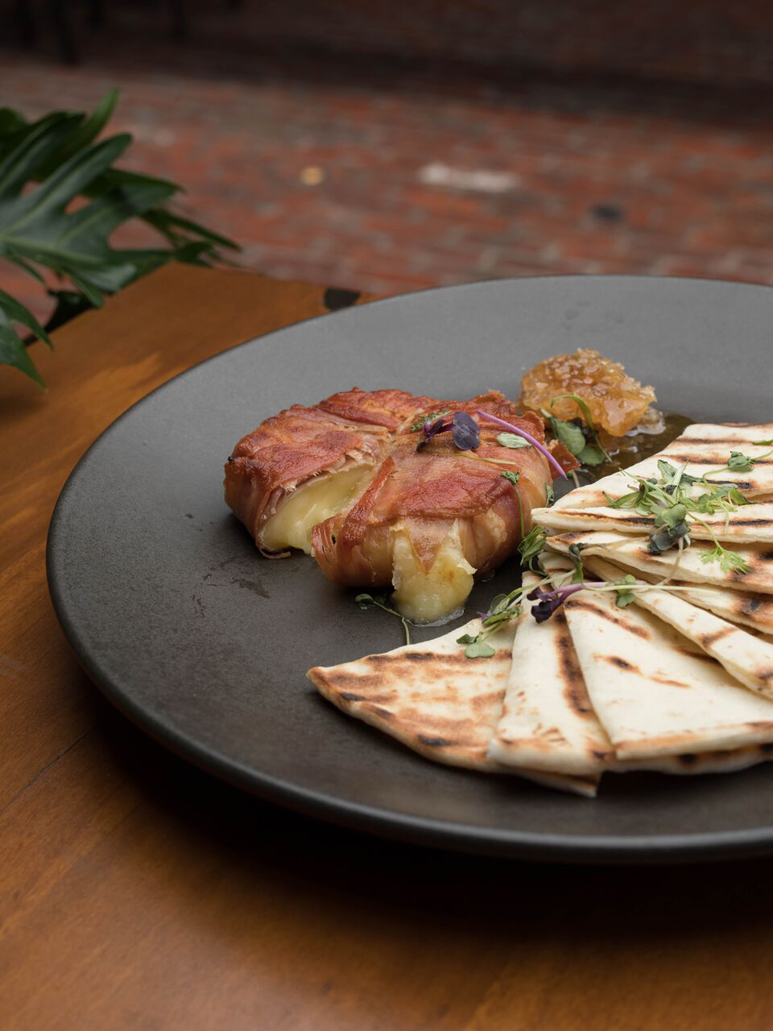 "Baked Jamon wrapped Brie" | Osbourne Hotel | Fortitude Valley
New Chef Ben King, AKA King of the Kitchen has brought his creative flavours into the Osbourne Hotel. His new Autumn Menu is warm, welcoming and with an element of surprise. I simply cannot go through life without ordering baked brie when I see it on a menu.. especially this one which comes with locally sourced honeycomb and toasted flatbread. Perfect with a glass of shiraz on any autumn evening. Happy cheese dreams folks..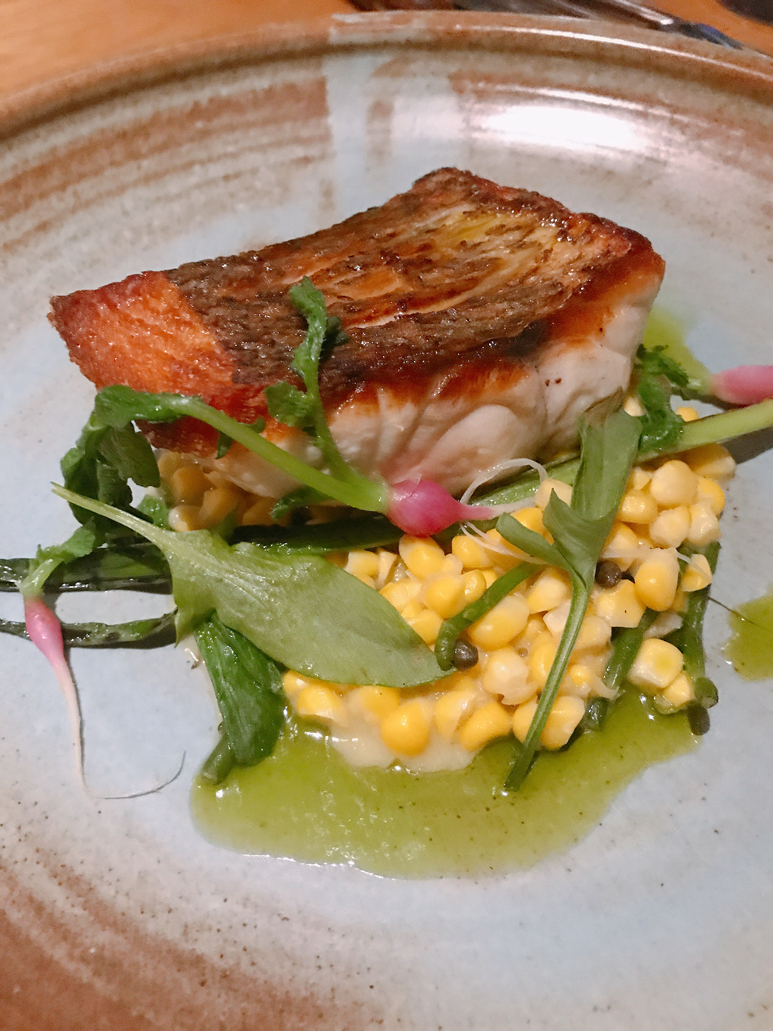 Crispy Skin Snapper | Pony | Eagle Street Pier
Chef Michael Crosbie has kicked off major dining goals with his unique, devour-worthy Autumn Menu. The Snapper with baby radish, risotto-style sweetcorn, sea parsley, leek and samphire is an exciting dish that hero the natural flavours of each ingredient. Aesthetically, this dish is elegant, designed with considered details to make you really swoon. Autumn al fresco dining at Pony is a life changing. The cooler weather with good food and cocktails (I recommend the Bittersweet Rita), watching the Story Bridge change colours.. it's a dining experience that makes you feel grateful for what's in front of you.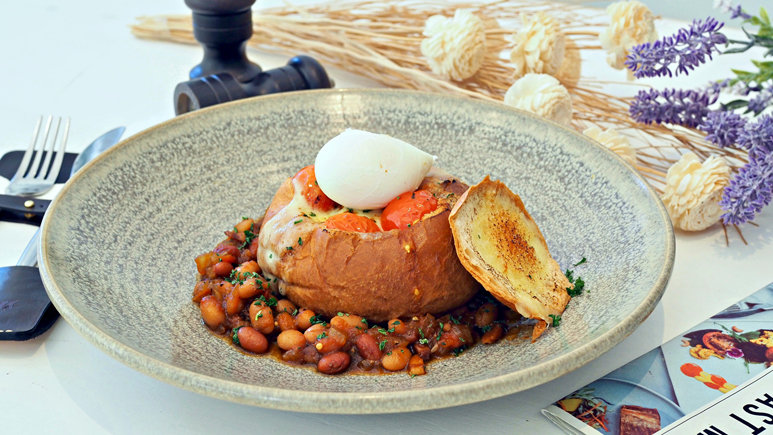 "Breakfast in Bread" | The Hamptons | Hendra
A perfect way to start any autumn day, The Hamptons' signature dish combines traditional favourites into one single dish. Lamb sausages, maple-cured bacon and mushrooms are encased in a fluffy Japanese milk bun, covered with gooey mozzarella, surrounded by the tastiest Boston baked beans ever and finally topped with a soft poached egg. This dish is worth getting out of bed for and will keep you going all day!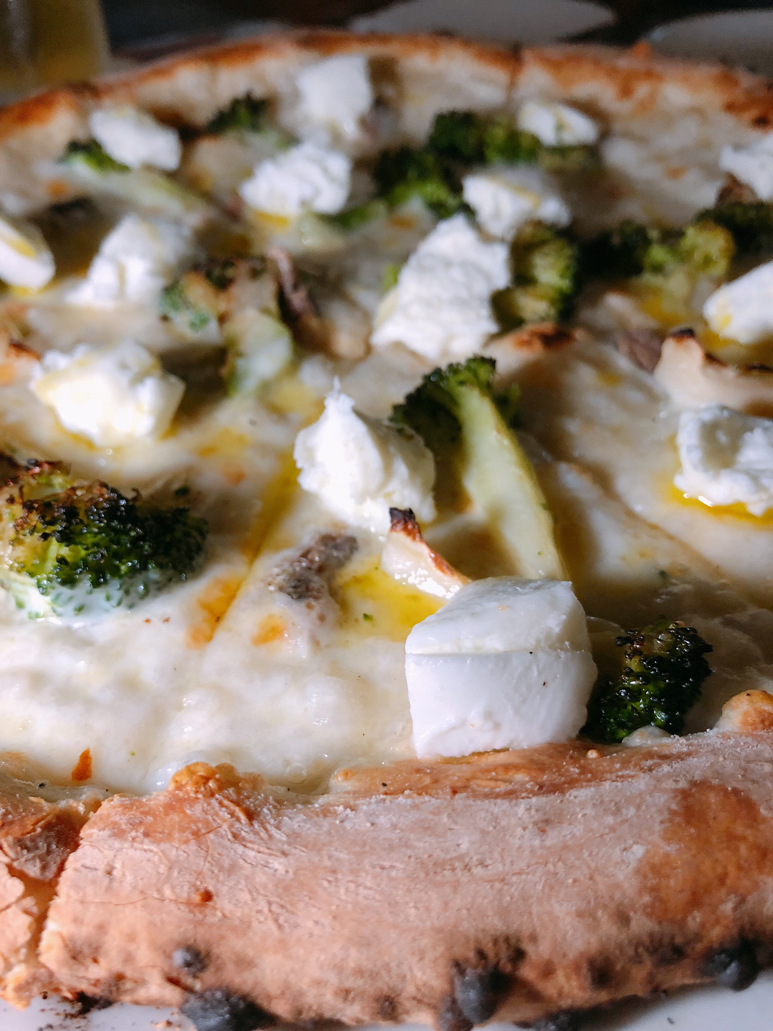 Pizza Special | Julius | South Brisbane
Award winning Julius is a favourite amongst locals, tourists and newbies. Their acclaimed menu is guaranteed to give you serious cravings and I love that no matter what day of the year it is, there is always a casual, cool, 'I want Pizza and spritz vibe' here. Now, one might argue that the Pizza at Julius is the best in Brisbane, but I have other things to think about.. such as what is their Pizza Special this week and can I have it for second breakfast?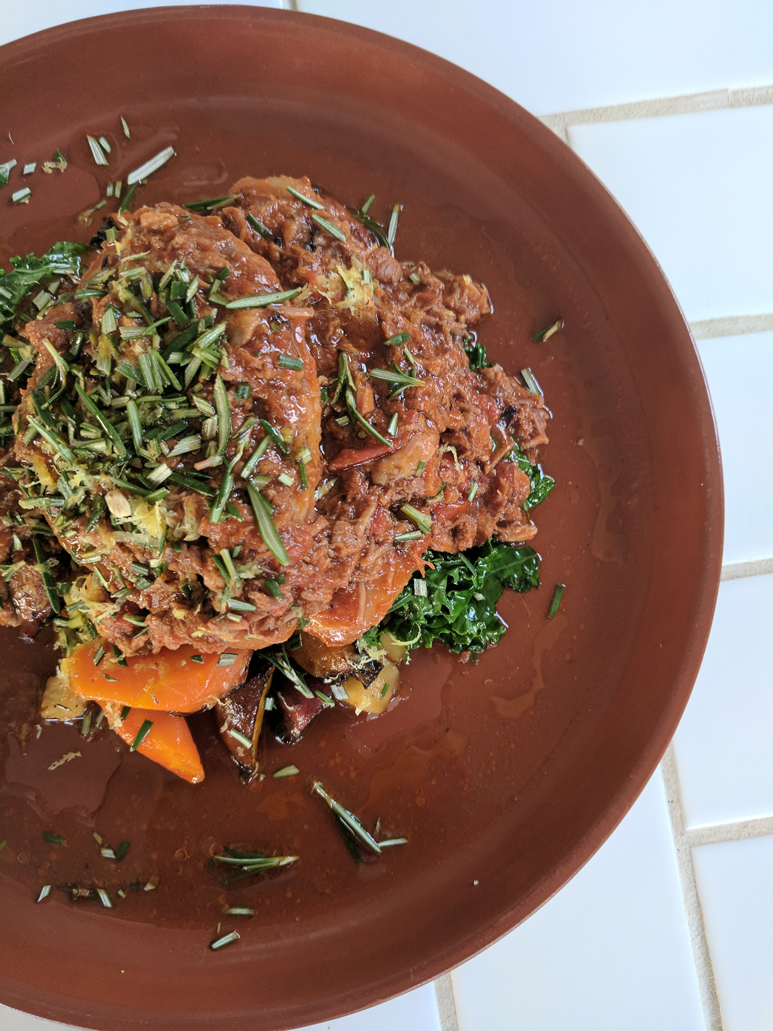 "Lamb Osso Bucco" | Casa Cibo | Chermside
Casa Cibo is one of our local faves and with this dish on their Autumn Menu, why would anyone make dinner! Executive Chef Joey Goldman has created a hearty, slow cooked Lamb Osso Bucco that is guaranteed to make you feel warm and fuzzy on the inside. The lamb is placed in a lamb ragu and gently simmers overnight in the woodfire ovens. Can you just imagine the lamb melting in your mouth... Served on roasted root veggies and wilted kale, finished with a lemon and rosemary gremolata, this is definitely a dish that the whole family would love. Hitting hyands and taste-buds in early May.... Mmmm!

Dumplings | Fat Dumpling | Bowen Hills
Fat Dumpling is an authentic, family-owned dumpling bar who make their dumplings the traditional Chinese way. Choose from XLB, fish, chicken or vegetarian dumplings, poached or fried, or all of the above! There's just something about devouring these delicate creations, consciously filled with flavour, lovingly wrapped into pretty little parcels and then boom... it gets munched up, flavours exploding into every corner of your mouth, all whilst you carefully calculate your plan of attack on how to savour that next fat dumpling..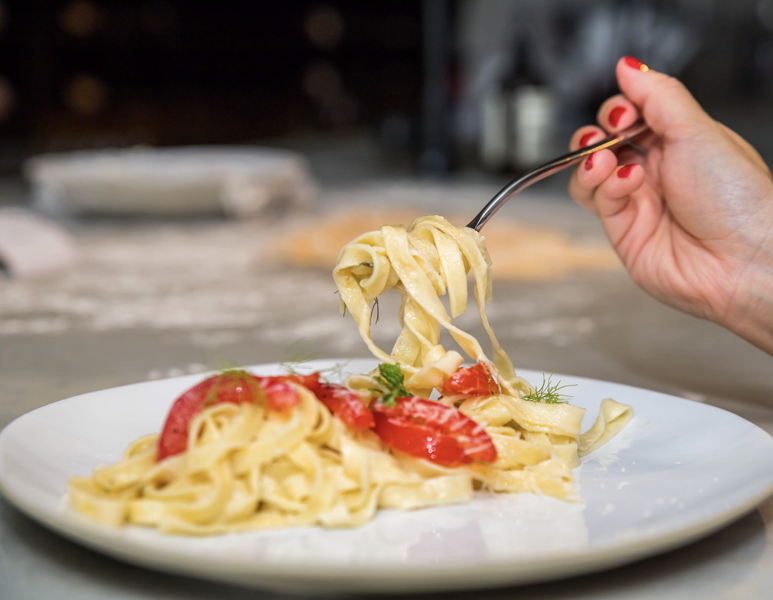 Handmade Fettuccine, Green Salad & Wine | Mr Chester | Fortitude Valley
When the day gets too long and Friday is not around the corner, you will love chilling out at Mr Chester. Chef Alex would create your order in an open kitchen, while you sip on delicious pinot noir recommended by Mr Chester himself. The handmade Fettuccine will give you gnawing pasta cravings and the Salad with walnuts, pecorino and soft egg is a perfect accompaniment. This cozy venue gives you an honest, intimate dining/wining experience that has Mr Chester win more fans as they grow.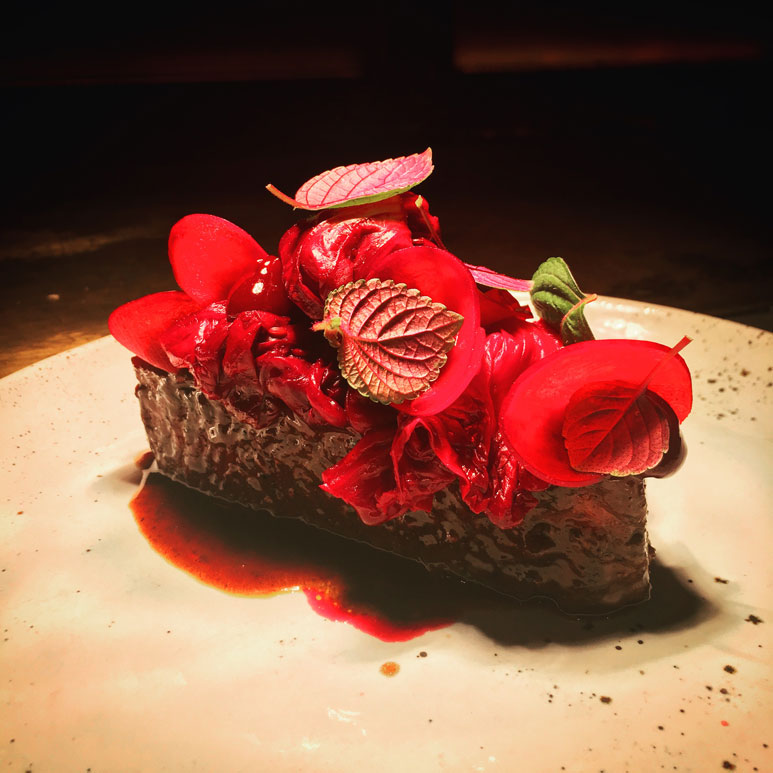 "Wagyu Brisket" | Vaquero | Albion
Vaquero might be known for their speakeasy bar and great selection of cocktails, but this hidden gem also has a pretty fine dining menu and a swarm of local fans. Vaquero is renowned for their simple, elegant plating that are absolutely insta-worthy. Their latest dish is a beautiful 8+ Wagyu Brisket from Rangers Valley, served with fermented radicchio and a plum ketchup. You can choose to enjoy it outside for a long autumn lunch ($25 lunch special with a glass of beer or wine), or cozy up inside and get comfy in their contemporary decor.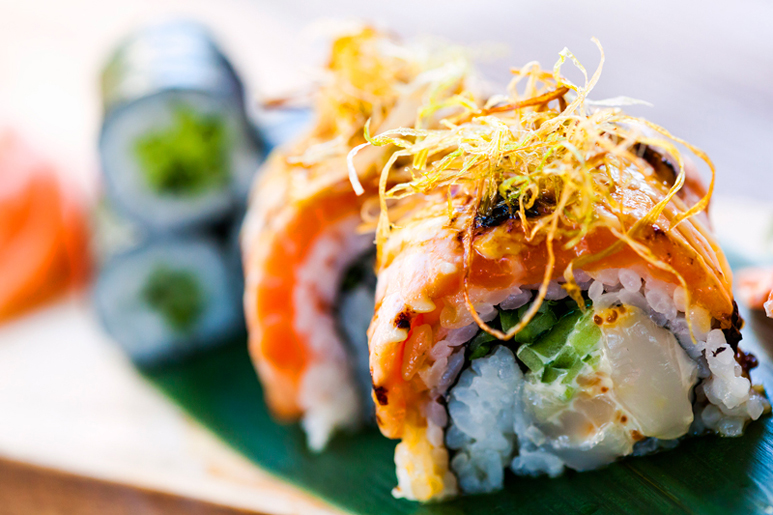 Moga and Mobo Rolls | Moga | Rosalie
These signature Rolls are not your average sushi rolls. They are pimped up Rolls, with a fusion of tasty textures. Think aburi salmon with scallops and fried shallots, or salmon and cheese, sprinkled with flaked almonds and drizzled with a sauce so tasty you'll want to lick your plate. Made the traditional way by one of Brisbane's best sashimi chefs, these Rolls are given a modern day twist and it simply works. The Moga Roll pays homage to the word "Moga" which means modern girl. So.. can you guess what "Mobo" translates to?
Photo credits: @sipping.brisbane + @emotivelightphoto + @bakersmithprojects
About the Author
Samantha strongly believes in a balanced lifestyle.. yoga with coffee, a crunchy salad with rosé, seafood with French champagne are just some of her favourite balancing acts. To her, life is about learning and experiencing new things, but some things are for sure: Brisbane is a very exciting city, good food nourishes the soul and wine fixes better than tape. Follow Sam's culinary and social adventures on insta @sipping.brisbane.