Behind Brisbane Brewing Co.'s Kitchen
Meet Chef Paul Kelly
The Good Guide is here to show off our local legends. Local is lovely and this chef is a superstar. Meet Paul Kelly, the man behind the kitchen magic at West End's iconic local micro-brewery, Brisbane Brewing Co. Read more about this creative cook, passionate soul and see what makes him tick!
Name: Paul Kelly
Nickname: Pauly / Chef
What do you love most about what you do: The people I work with and the people I cook for. Using fresh ingredients, challenging and working with the best suppliers, finding out what's on trend in food, and finding inspiration from those around me.
Describe a day in the life of you: Wake up at 9am, ride to work, work until 11pm, drink a beer…or three, ride home, days off with my son
What are you passionate about: Cooking and art (and beer)
What's your life philosophy: Find balance in your life. And, grow my dreadlocks back… I'm missing my mojo man
5 words that describe you: Hairy, sarcastic, chilled, passionate, alive
What did you want to be when you grow up: A tiger. Or an artist.
Three people (dead or alive) you would invite to a dinner party, and why: My family back in Melbourne… I've never really cooked for my parents before.
If you turned into a bird, which bird would you be: A Magpie, why not?
In an alternate universe, what would you be doing: Being an artist
You are kidnaped and held for ransom. What TV series would you have come and rescue you: Mr Pickles
What is your favourite holiday destination: Melbourne. I'm a Melburnian! The football, the food, the weather, the coffee, from the beaches to the countryside and all the hook turns in between; I love it all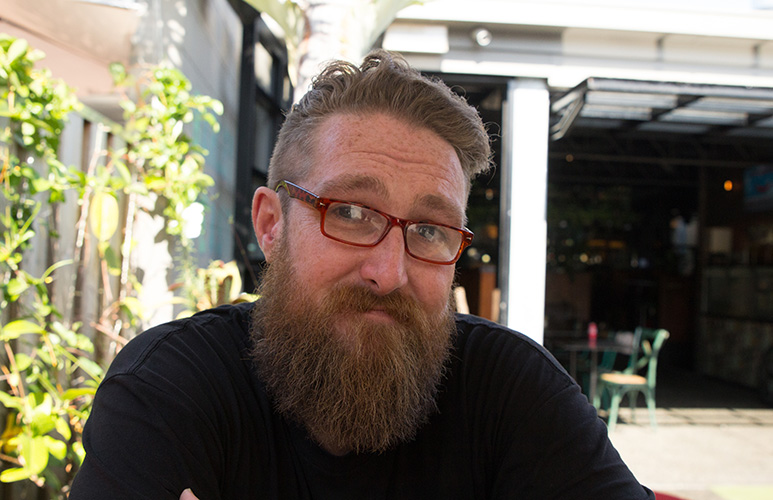 Favourite places in Brisbane to:
o Eat: Jackpot Noodles, West End
o Drink Rumpus Room, West End
o Chef Brisbane Brewing Co., West End
o Relax Home
o Shop The Internet; who doesn't love receiving packages in the mail
o To Impress Vic Market
o Culture/Arts The Powerhouse
o Event Ocean St Night Market
o Sundays I work on Sundays…so, Brisbane Brewing Co.
Brisbane's best kept secret is: ME Ok then, enough about me, how about the Beer Garden at Brewhouse Woolloongabba, especially late at night when we relax after work for a few well-earned brews.
My inspirational quote: Add a drop of lavender to your milk, leave town with an orange, and pretend you're laughing at it.
Next exciting thing for me is: My son Frankie starting Kindy. Reckon it'll be a happy sad bittersweet slow fast first day of the rest of his life kind of day.
Anything else about YOU YOU YOU: Chefing was my third major career change in my life. Previously Roof tiling and working as an arborist were my chosen professions. But I've landed on my feet. I love working with food and the fact that it's immersed in beer is just a bonus. Who knows what I'll do next? Something creative, no doubt. Any ideas?