Bread & Meat Co. | Brisbane City
Good Bread, Great Meat, Good Food, Let's Eat! New City Store.
This slice of sandwich heaven focuses on three signature sandwich dishes, three sides and three salads. Why such a limited menu you ask? These guys have the secret to great food worked out. Instead of a large and varied, but somewhat average menu they've decided to limit their menu and produce a few items of fantastic quality. Sounds like a great idea to me!
So let's have a look at this fantastic menu shall we? Sandwich number one: BBQ pulled pork sandwich. Smoked pulled pork with BBQ hickory sauce and fresh coleslaw on toasted brioche slider buns. Mmmm. Sandwich number two: Corned beef sandwich. New York style corned beef, gherkin aioli, poached cabbage and Dijon mustard. Um yum. Sandwich number three: Beef brisket dip. Last but not least, thirty six hour roasted beef brisket, Swiss cheese, horseradish aioli and a side of jus. Drool alert! If the sandwiches aren't enough they also offer Canadian poutine, Chilli cheese fries and sweet potato fries. There are also three divine sounding salads for the vegetarians.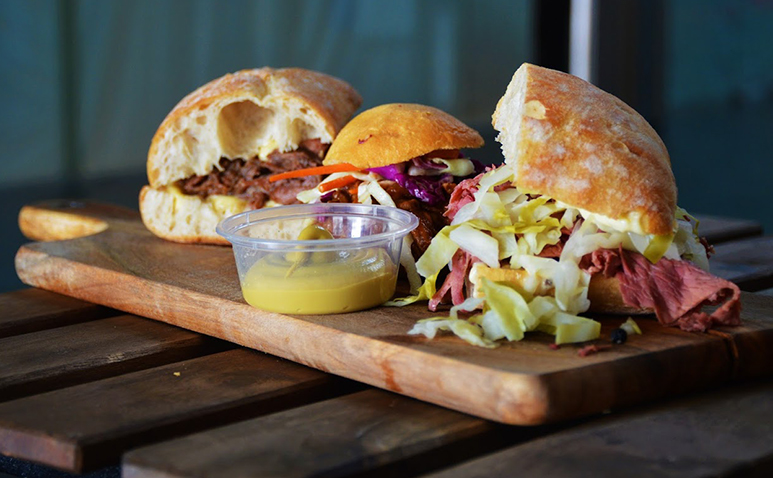 I know, I've convinced you that simply must have one (or all) of these sandwiches. But where is the Bread and Meat Co you ask? Last week that answer would have been Brunswick Street in Fortitude Valley. But as of Friday all you city slickers are in luck, because the Bread and Meat Co just got closer. A second location has just opened right in the heart of the city, on the corner of Mary and Market Streets. Excellent news I know.
So if you've got a hankering for a tasty sandwich go and visit the Bread and Meat Co's new Brisbane City location and send your taste buds to sandwich heaven.
-
Written by the fabulous Danica
Published by Picky Pigeon Productions