Food Truck Lovin'
The Best Rollin' Restaurants in Town!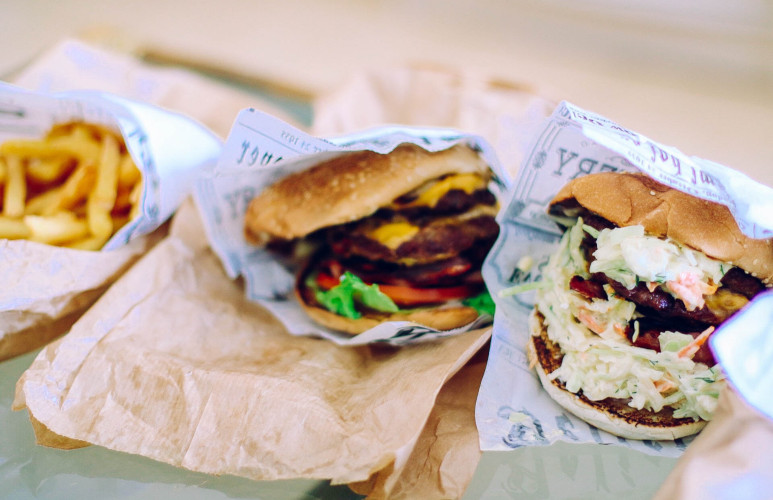 The last few years have seen Brisbane become quite the cultured chap, opening its heart and stomach to many new delicacies - on wheels!
Food Trucks have become so popular that not only do we go out of our way to find them, there are now a number of festivals, even permanent fixtures around town to accommodate interchangeable delicacies and give the crowd what they want - tasty, tasty variety!
With such an array of food available, let's make some plans for the weekend and check out some of Brisbane's favourite food truck stops.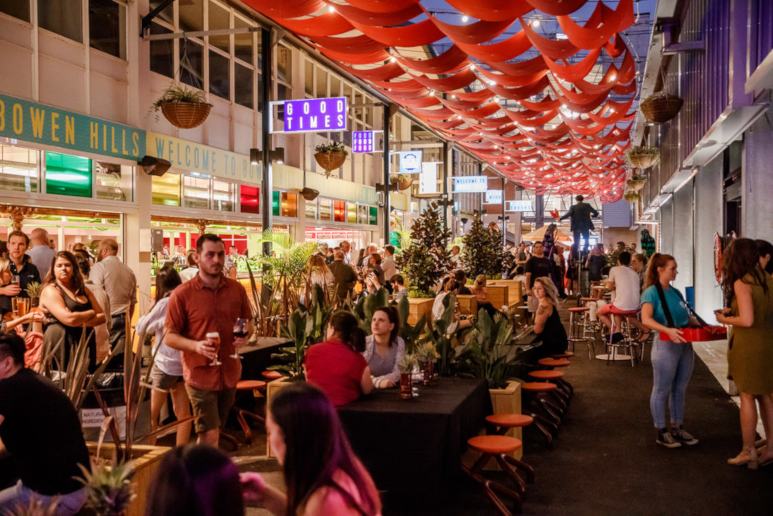 Image Credit: 100 Burgers
That's right; there's a whole new food district in town and no matter what your flavour, you will find something to eat, drink and utterly inhale.
They offer a range of daily rotating food-trucks, like The Tasty Pocket, Sate House and Mr Burger to entice the taste buds and meet any cravings.

WTBH hosts a range of popular and regular events like BYO Dog Nights and Vegan Nights so bring a friend (furry, vegan or otherwise) and check the new trucks on the block!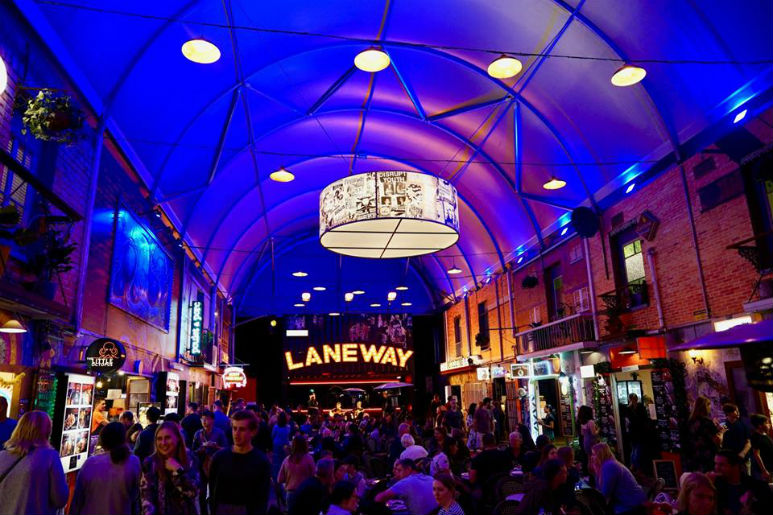 If you haven't been to Eat Street Northshore yet, I'm not sure what you're waiting for. This is where food trucks come to live in luxury, where they can park their wheels and become residents.
Over the years, Eat Street has become the #mustvisit place when in Brisbane. There's live music, dancing, candyfloss and food from all over the world, all located in a prime position right next to the river.

Yes, there are lots of different foods from all over the globe, but you want my suggestion? Start with dessert. In fact, you'll forget all about dinner when you discover the KombiAlly, where you can get churro nachos and cronuts and hot balls and doughnuts. You. Are. Welcome!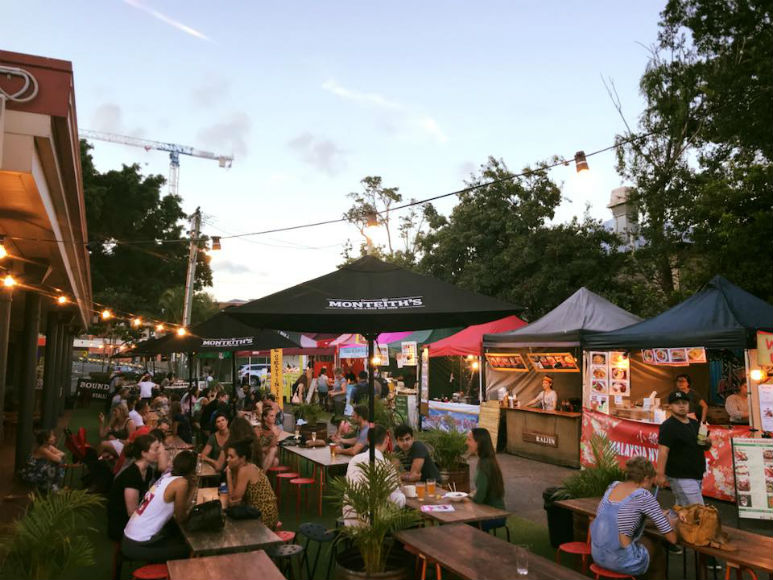 West End is Brisbane's hipster corner, where hemp is in everything, and the food is extra tasty! So it's no wonder that they finally have a permanent fixture to satisfy your munchies.
The treats here will take you around the globe with delights like a nasi lemak from Malaysian inspired Nonya House, wild mushroom gnocchi from the French Ma Petit Cuisine and even Count Dracula's favourite Transylvanian cheese pie from the Taste of Transylvania.
The Boundary Street Markets also hold live art exhibitions and live music, so it will be a great night out no matter what your cravings are calling for.

The Mt Gravatt Marketta is the south side 'burbs offering of a food truck market, where families will enjoy the live music and a wide variety of street food. The Marketta is open during all weather events, including storms, which in my opinion sounds like a blast! It's mostly undercover, but in the event of hail, you might want an umbrella.
This Market is relatively small in comparison to the others, but the focus is good food and good vibes! There are around 60 food trucks with a range of delicacies, such as the Mussel Brothers, Wild Rissole and the naughty but delicious Nakd Sausage.

There's plenty to be said for the small affair that is Mt Gravatt Marketta, so next time you're in the 'burbs, stop by and get your naked sausage on.

Eats and Beats is a pop-up event happens on the last Friday of every month, moving around to showcase the City of Logan.
There is no entry fee, and as it is a family friendly event, there is also no alcohol served. But there are kids activities and sports that can be played, and they always attract a good crowd.

The food trucks change every month and aren't announced until you get there on the night, but the event has become a shining light for Logan, and they do their best to impress. Eats and Beats grow bigger every month!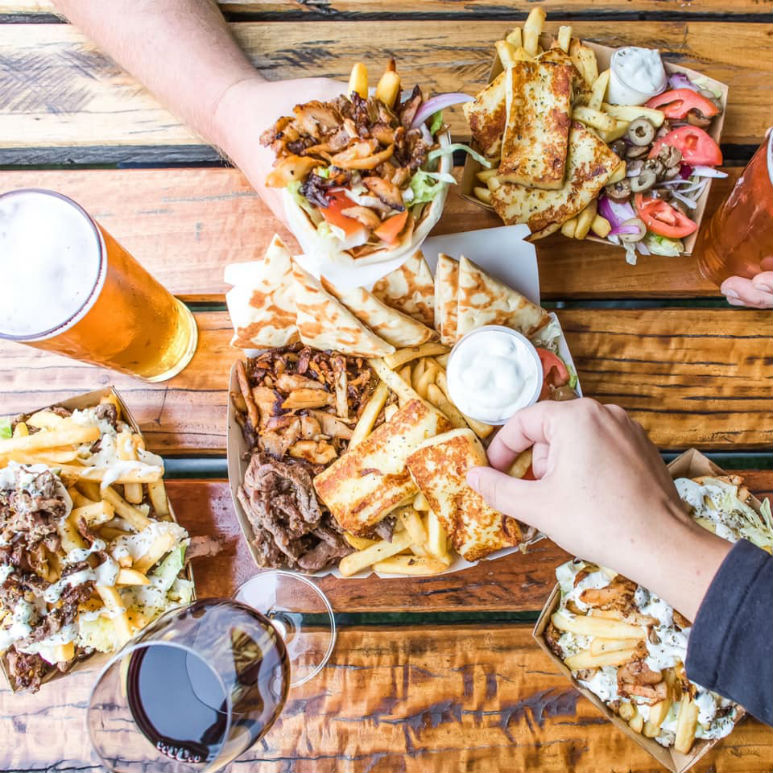 Serving from 80ft of bar frontage is a drinks selection worthy of exploring. Sixteen tap beers and ciders and a vast bottled range mean even the biggest enthusiast will find something to tickle their taste buds.
If it's your 1st time or your 50th Riverland Street Kitchens will always offer a unique experience.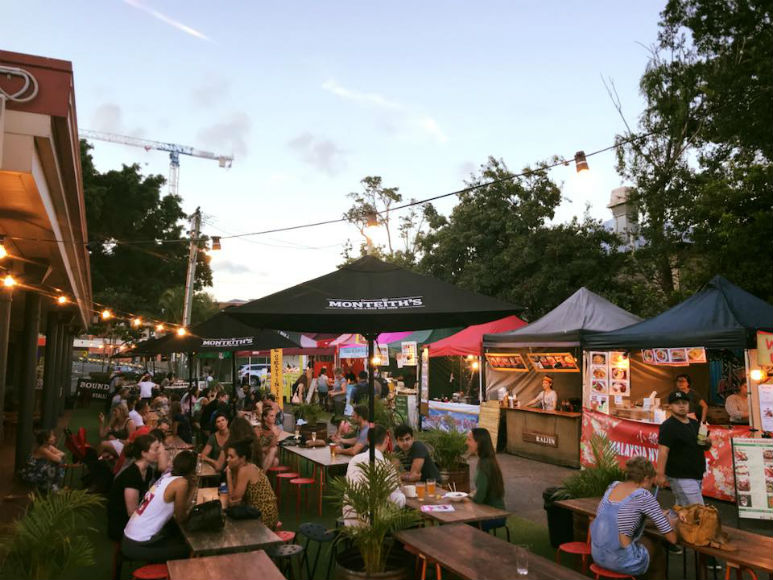 Downey Park Food Trucks is a lively community street food extravaganza that happens in the lovely green surrounds of Windsor's popular Downey Park. This is the place to be on a Sunday arvo, chilling on the grass enjoying your food truck faves.
Note that the food trucks attending may vary from month to month.
Related Articles
About the Author

Frolicking in the ocean and sipping on a cool beverage is how life was intended for Billi. An avid traveler and dabbler in creative expressions, Billi has tried it all – singing, make up artistry, photography and cross-fit coaching – wait, what?
Billi has loved writing since Hotmail accounts were cool, her 15 childhood diaries will attest to that. Years of practicing terrible poetry and managing her own teenage emotions have shaped Billi's passion for writing her stories and experiences for her few social media followers.
Adoring her young family and loving her close group of friends, Billi is planning on writing all about her upcoming overseas adventures as soon as the kids are old enough to appreciate all the effort it takes to travel with them.