5 Amazing Retreats close to Brisbane
Discover These Fallen Slices of Heaven
Winter is here and luckily us SEQ'ers live in paradise all year round. Life/ work can get a bit dreary staying in the urban jungle. You poor darlings. Here are five fallen slices of heaven within 90 minutes of the city, complete with gourmet fare, heaters, hot tubs, views and an utter absence of suburbia.
SPRINGBROOK (1 hr 35 mins)
About 90 minutes south of Brisbane, Springbrook is a natural haven replete with lookouts, parks, caves and of course, luxurious retreats. Explore Natural Bridge park at night and gaze in wonder at the glow worms or your partner's features in the light, take an obligatory waterfall photo at the multitude of local falls, or enjoy a romantic picnic overlooking breathtaking mountain canopies. The Dancing Waters Café is worth a visit, or Polly's Country Kitchen if you're willing to venture north of Springbrook. Although, you may not want to do any venturing at all if you're staying at the Mouses House Rainforest Retreat.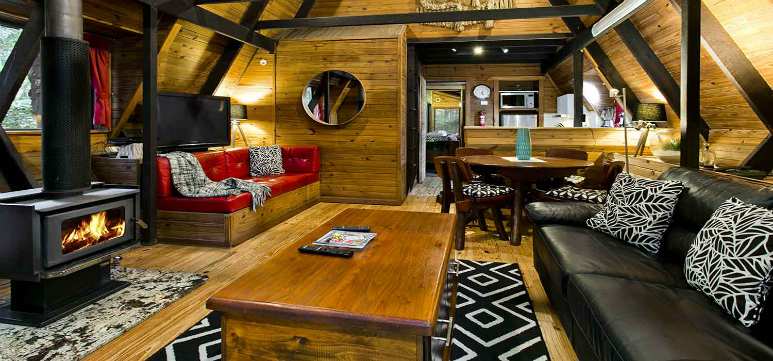 THE MOUSE'S HOUSE - Springbrook
Or the Wicked Witch's house. While all 12 chalets at the retreat are cosy and seductive enough to melt even your ex's cold heart, the Wicked Witch's house is the place to be. With glossy wooden decor, plush leather couches, greenery and cute critters all around and a private hot tub overlooking a stream, you may collapse to the floor as soon as you enter and cackle by the fireplace. Though if anyone does, it's probably best to leave them in the rainforest.
All the chalets have special features, quirky fairytale names, coffee machines, and obscenely large TVs and stereo systems.
MONTVILLE (1 hour 35 mins)
Montville is known for its art with many a display to browse and pretend you have an opinion on (there are at least five different galleries). The parks, craft stores, boutiques, falls, parks, spas and vineyards are all recipes for a memorable time, assuming you aren't indulging too much to remember. Montville visitors are spoiled for choice when it comes to retreats, but these two are the top contenders.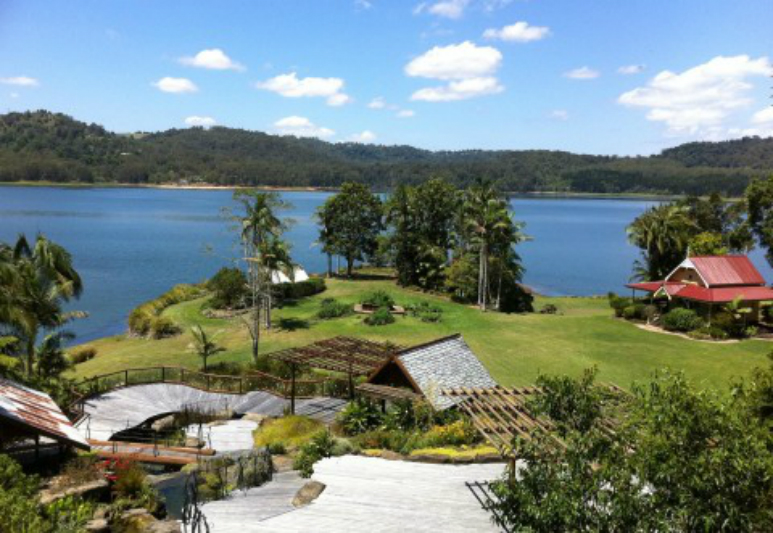 SECRETS ON THE LAKE - Montville
The lake is Lake Baroon and the secret is how to get out of a treehouse after a weekend of blissful vegging. Food can be taken up to you, or you can roll down to the Secrets Café and organise a massage and aromatherapy session while you're there. Beautifully hand-carved walkways lead to each treehouse. Each has a unique features, but all of them include a spa, a fireplace hanging from the ceiling, and a view of the lake and forest to die for. Of course, the treehouse named Secrets is the retreat's most premium, and where the best times are had.
NARROW ESCAPES RAINFOREST RETREAT - Montville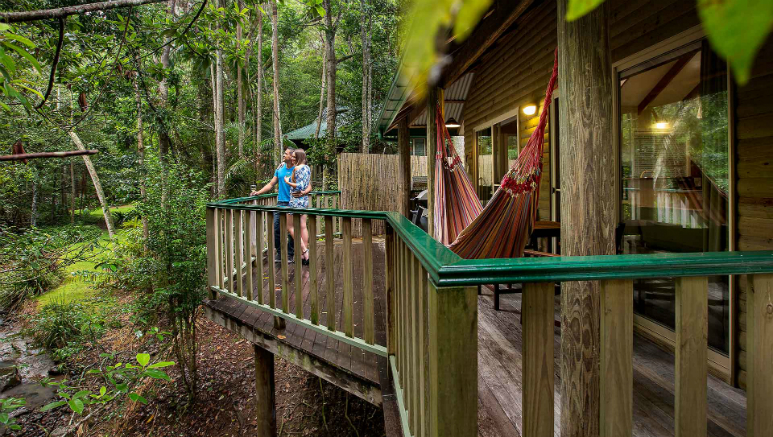 Freshly baked croissants, double spa baths, roaring fireplaces and total rainforest seclusion is what awaits at Narrow Escapes. Barbeque hampers and home cooked meals will be brought to you if the cosiness is too much and you just want to stay in.
MOUNT TAMBORINE (1 hr 10 mins)
Walking tracks, wineries, 4wd tours, rainforests, mini golf, hot air balloons, picnic opportunities and romantic scenery. Mount Tamborine has the perfect mix of adventure, romance and, you guessed it, a well-heated and luxurious retreat.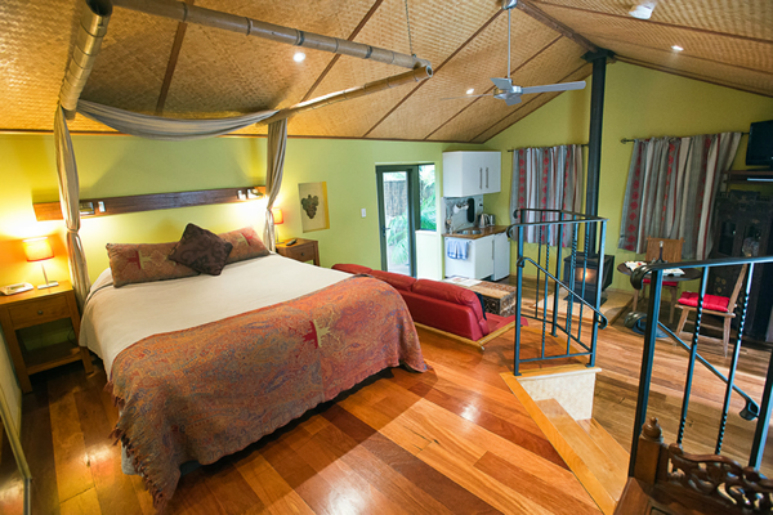 WITCHES FALL COTTAGE – Mt. Tamborine
'Delightfully different' aptly describes these wood and stone cottages on the foot of a mountain. They'd have a special charm even without their double spas, fireplaces, private courtyards and lush surroundings. The retreat is within walking distance of shops, wineries, restaurants and Tamborine National park, but complimentary port and chocolates in your private courtyard with your plus one may be enough to tide you over. If you crave something extra, there are room service breakfasts, barbeque hampers and cheese platters, or if you're feeling adventurous, Witches Fall can organise coffee massages, hot air balloon rides, helicopter pub crawls and cooking and photography classes with a tour.
Why are you still here?
SPICERS PEAK LODGE – Maryvale (1 hr 50 mins)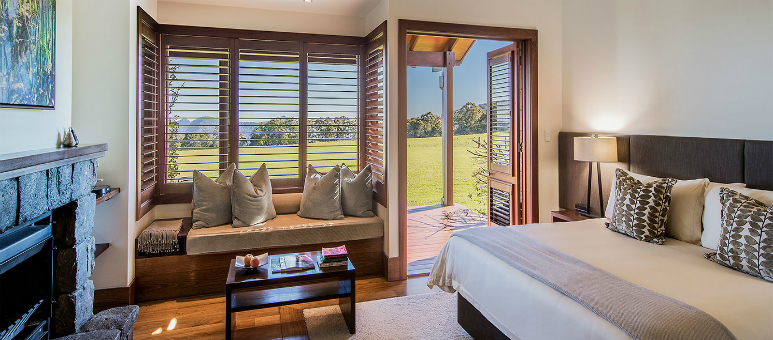 Criminally decadent and borderline criminal (the Lodges are up to $1000 a night), Spicers Peak boasts spa suites, massive open fireplaces (built and lit for you), marble bathrooms, views of the Scenic Rim, helicopter rides, fine dining and various spell bounding organised activities and experiences. Here is the ultimate destination for pampering and fine tastes.
About the Author
A man of many faces; none as majestic as his own. The Good Guide found him under a troll bridge and fed him quinoa. He now only eats organic sustainable foods priced over $40. Born in Tupperware, USPS, he was raised by Eminem music and taught the importance of a bad attitude. A stranger once asked him what was so great about being short, but he ignored the question and walked under them. He messes with everything except the Wu Tang Clan and Chris Pine's hair.