Bao Down at Junk Asian
A Paradise of Moreish Street Eats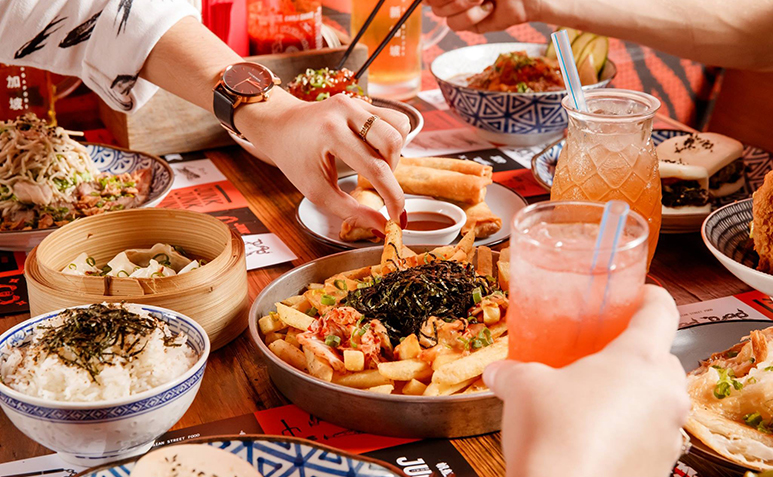 Presented under one roof at Junk Asian, be prepared to be wowed by the melting pot of cultures that permeate through this gorgeous establishment. Illuminated with dimmed lights in the soft delicate hues of sunset orange glow, Junk nails the ultimate dining experience – food, aesthetics and atmosphere. It's like attending the hotly anticipated Night Noodle Markets again, but all in one neat place.
Upside-down traditional bamboo steaming trays adorn the ceiling, stacked in different sizes and proportions, creating a quirky yet elegant display of Chinese elements. Combined with the industrial themed decor, the interior gives off a raw but polished vibe, and is a definite feast for the eyes.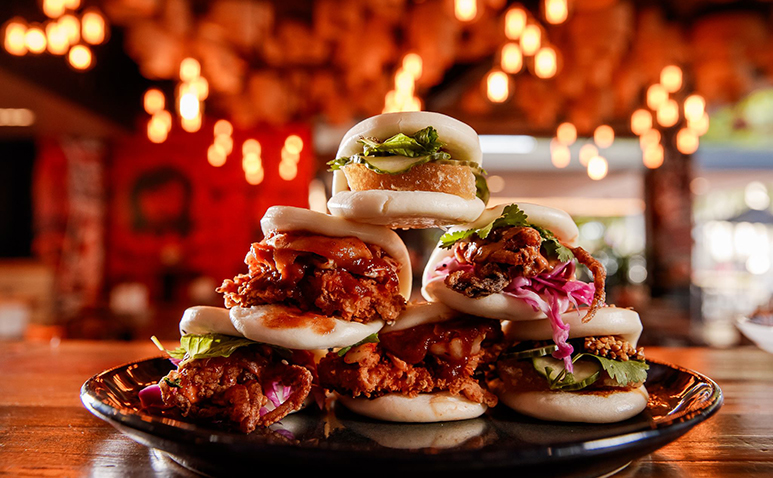 Created by award-winning chef Tony Kelly, business partner Scott Hoskins and helmed by rising culinary star Executive Chef Mitch Smith, Junk was birthed in Sunshine Coast and prides itself in the art of being 'punny' and pairing their clever selves with reinventions of classic Asian dishes that are worth salivating over.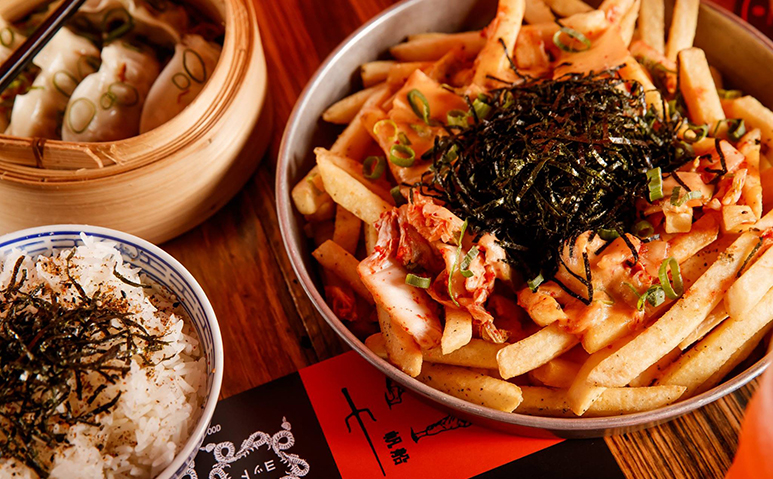 Drawing inspiration from street eats all over Asia, Junk has created an incredible menu that boasts a remix of Thai, Japanese, Cantonese and Korean cuisine, amped up with a freestyle-Australian twist. With options varying from Crispy Peking Duck Spring Rolls, Gangnam Fries to Soft Shell Crab Steamed Baos, ordering dilemmas are bound to occur.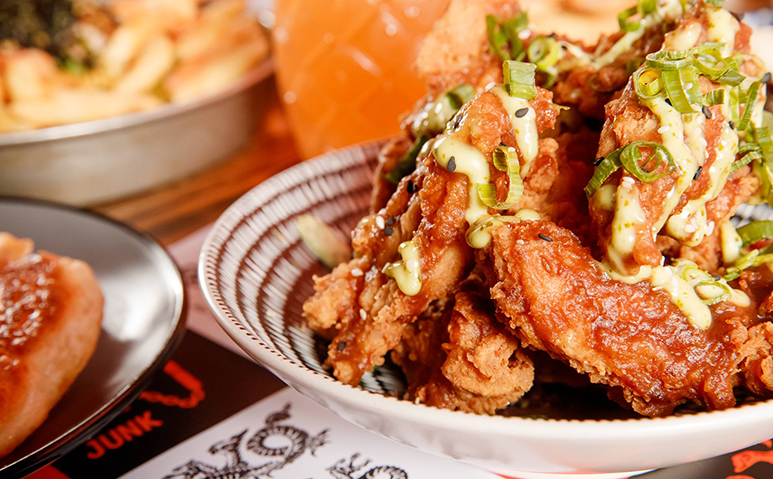 Game for something more? Go for their Crispy Fried Gunpowder Chicken Ribs. Prefer something nutty and aromatic? We recommend their Chicken Satay Rice Bowl, it packs a medium spice punch! If you're a sucker for comfort Asian selections, they've got morsels of decadent shu-mai, pork dumplings and a hot bowl of ramen. Whichever craving you have, your palate will not be disappointed.
For the health conscious, you won't find anything trashy here – take a chill pill, let your hair down and chow down on wholesome delights that consist of locally sourced ingredients. Likewise, those with voracious appetites will be pleased to know that portions are generous at this outlet, and the modern fusion flavours are a complete crowd pleaser. Plus, it's wallet-friendly too – with everything under $20, it'll be a challenge not to order nearly every single dish!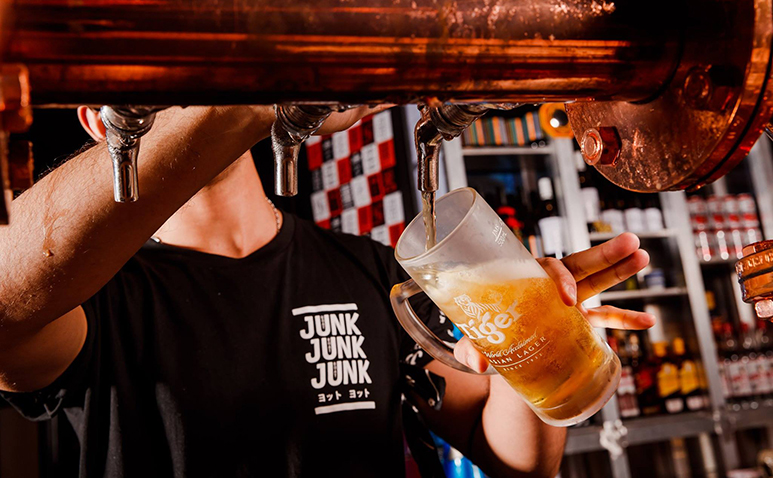 A part and parcel of the Asian culture involves gathering 'round the dining table and sharing an array of dishes with one another while catching up over conversations – so make room in your bellies and order up! Wash it all down a pint of Tiger beer, a Singaporean signature. Junk also offers banquet-style menus for groups of 10 or more, where you can choose between two options, The Easy Goer and The Feaster. Book here.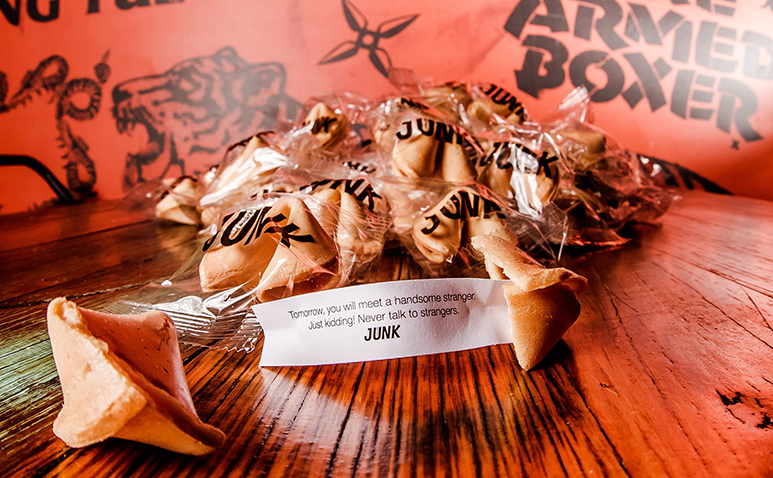 Before you go, remember to grab a fortune cookie at the end of your meal! At every old school Chinese restaurant, those crunchy novelties add the finishing touch to the splendid meal. Specially prepared by Junk themselves, we won't be surprised to see fortunes weaved in with a pun or two… as they like to say, #TrustTheJunk.
If you're ever out of town and having major cravings, you can catch Junk Asian at Maroochydore, Toowoomba and down south in Melbourne Market. Besides, they open till 10pm 7 days a week, so if any of your mates are game on for supper, you know where to go!
About the Author

A bubbly Singaporean writer who's obsessed with all things nommable, and an absolute sucker for bubble tea and coffee. Also known to make fun out of the mundane situations in life – like creating words out of car plates.