Brisbane's Unbe-leaf-able New Parks & Playgrounds
Who says grown-ups can't have fun too?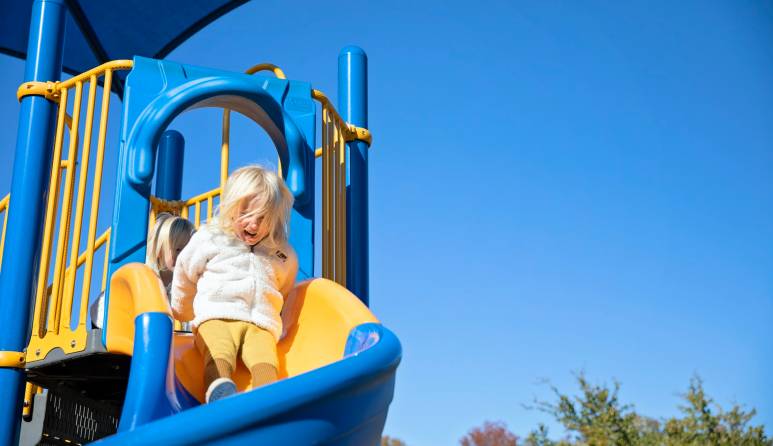 Itching to find a new place to explore and hang with ya mates? Tired of bringing your little bums to the same old parks and playgrounds? We've got you! Swing by Brissy's new parks and playgrounds to get your little ones jumping around while you take the back seat and unwind under the sun. Nothing beats running around in nature and bringing back the simpler times hey? How lovely does that sound?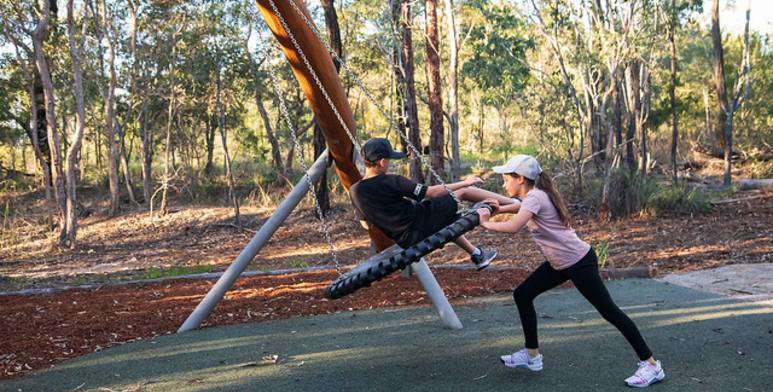 Warril Parkland, Larapinta
All Round Family Fun
What's a family day without getting down and dirty with the kids? Warril Parkland at Larapinta makes for an epic family day out, without the hassle of packing for five and squeezing in for a game of car sardines. From a bush camp-themed playground and flying foxes to walking trails Brisbane City Council's Oxley Creek Transformation has it all! A wicked mix of water-play, walks, birdwatching and scenic picnic spots! Let your imagination run wild as this one of a kind sensory parkland will keep your senses alive and kicking!
Address: 1059 Paradise Rd, Larapinta QLD 4110


Bradbury Park, Kedron
Junior Adventurers
Giddy up boys, Kedron's Bradbury Park is serving you some serious scooter shredding action that will get your rascals exhausted by the end of the day! Now that's a good night rest for us adults (hell yeah!)! Brissy's first dedicated scooter track decked out with jumps and puddles! Not only does Bradbury Parks have epic scooter parks, the new 'magical forest' inspired playground will have your little ones squirming in joy as they wander into the unknown!

Address: 91 Kitchener Road, Kedron
Guyatt Park, St Lucia
Teenage ninjas


They might be small by mighty! Get your little warriors bouncing around this new fitness challenge course at St Lucia's Guyatt Park! Challenge your little ninjas to a range of obstacles to beat the clock and score a new personal best through the Park Warrior app. He/she can nun-chuck their way through the challenge while stepping out of their comfort bubble! Watch out, little warriors coming through!


Address: Guyatt Park, St Lucia QLD 4067

Cadogan Street Park, Carindale
Frisbee Devotees
Calling out all Frisbee fanatics, disc-over your new IT place for all your frisbee sessions! Brissy's second disc gold course at Cadogan Street Park holds a 18-hole course for you and your family to give your best throws! Here to welcome all ages and abilities, just remember to BYO mini discs! Chuck, Chuck and away!
Address: 199 Meadowlands Rd, Carindale QLD 4152


Decker Park, Brighton
Ocean Breeze lovers
Get your daily dose of vitamin sea! Head out to Decker Park by the water with it's upgraded fun shenanigans! Decked with new swings, a double slide (not one by two? Score!) and monkey bars too! Get your Sunday Funday in and strap up some bikes in the boot for the kids to ride by Sandgate- Brighton foreshore walk! Ending of the sweltering arvo by the beach while getting baked in the sun! What a day!
Address: 18 Twenty Fifth Ave, Brighton QLD 4017

Primrose Park Skate Facility, Wynnum
Skateboard Lovers

That little one stealing hearts from all the girls, have your skater boy learn his flips and tricks here at the new Primrose Skate Park Facility. Probably the swaggiest spot in town for all you skater boys! This action jam-packed park equipped with ramps, quarter pipes, skate rails and jumps- perfect for anyone looking to level up on scooters or skateboards. Skrrt boys, let's show them how this is done!

Address: 2280 Wynnum Road, Wynnum West.



Wishart Community Park, Wishart
Nature Lovers
To all you young adventures who loves nature as much as we do, this new playground at Wishart Community park will have you forgetting about the city life. This eco themed park beautified with forts, climbing equipment, spinner, rocker, swings and more! Taking advantage of the leafy canopy of trees, pack in a hearty lunch for you and your kiddos to snake on after a whole day of fun at the park!
Address: 106a Kavanagh Road, Wishart
7 different parks to explore every Sunday funday! Get your little ones dressed and let's get down and dirty!
About the Author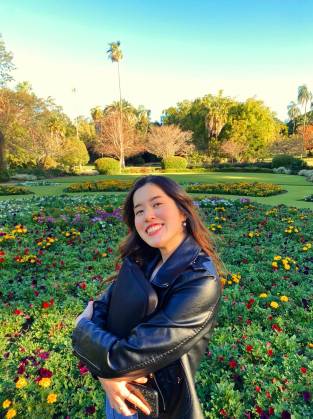 Born in Sunny Singapore, Yong Yi is a creative that enjoys visual storytelling, and nothing beats a good old sunset view for her. Always on the hunt for discovering new alternative R&B artists on Spotify and creating playlists for the different moods that she has! When Yong Yi isn't occupied by school or work, you can find her spending most of her time dancing at different dance studios as she values the art in movements. Not only that, but she also finds any opportunity to travel the world, particularly the countrysides where the culture is strong. She also enjoys taking the time to understand and listen to the different stories that are shared by many.