Important Stuff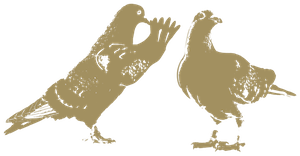 PRIVACY
We value your privacy and see it as very important. We hate spam and unsolicited mail, and getting on a list you didn't sign up to. Your details are kept private and you are only subscribed if you choose to follow us online, become a member or enter our cool V.I.Pigeon competitions. We don't pimp you out, give your details or disclose to third parties anything (unless you consent). Your details will only be ever used for the purpose you intended.
For our website statistics, when you view our site our Internet Service Provider (ISP) and record your visit for statistical purposes only and log your server address, date & time of site visit, pages downloaded and accessed, any search engine referrals, your browser type, your top level domain.
We are all about respect. We respect you, your privacy and don't want to compromise our friendship! Our approach to privacy meets the Australian Government's National Privacy Principles contained within the new Privacy Amendment (Private Sector) Act 2000. Got more questions? Feel free to call the nest on 07 3161 3604. Otherwise you can fly online and check out the Australian Privacy Commissioner's website for the full low down.